Cottonwood Blowout Wash Bridge Deck Rehabilitation
Overview
The Arizona Department of Transportation is administering a federal project for the City of Cottonwood that will rehabilitate a bridge on Pima Street between North Second Street and Third Street. The work consists of replacing the existing bridge deck, replacing bridge barrier, reconstructing the roadway approaches and other related work. The purpose of the project is to extend the life of the bridge.
The project will begin in November 2022 and is scheduled to be completed in early 2023.
What to expect:
Pima Street, between Second and Third streets, will be closed to all traffic during construction. The closure will necessitate a short detour east of the Old Town Cottonwood business district. The detour will enable residents living on Third, Fourth, and Fifth streets to travel south to Main Street in order to access Pima Street west of the bridge closure.
Project Flyer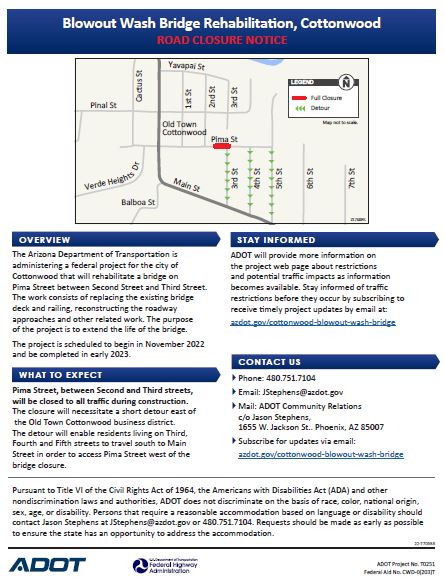 Stay Informed
ADOT will provide more information about project schedules and potential traffic impacts as information becomes available. Stay informed of traffic restrictions before they occur by subscribing to receive timely traffic alerts and project updates by email.
Have a Question or Comment?
Email: Subscribe to receive project updates and traffic alerts.
Phone: ADOT Project Information Line: 855.712.8530.
Teléfono: Línea de Información del Proyecto ADOT: 855.712.8530
Online: Submit a question or comment through the ADOT website. Visit azdot.gov/Contact and then select Projects from the dropdown menu.
Twitter: Follow ADOT on Twitter (@ArizonaDOT) for real-time highway conditions statewide.