Traffic Alerts - I-15 Virgin River Bridge No. 1
Lengthy restrictions on Interstate 15 begin Sept. 8 at Virgin River Bridge No. 1 near Littlefield
Smartphone app to help motorists through construction zone in far northwestern Arizona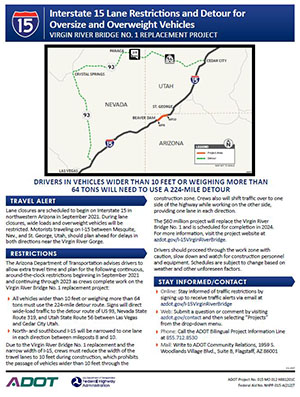 The Arizona Department of Transportation advises motorists to plan for delays on Interstate 15 in northwestern Arizona as lane restrictions begin Wednesday, Sept. 8, on Virgin River Bridge No. 1. The lane restrictions are expected to be in place through spring 2023.
Drivers should be prepared to stop and proceed through the work zone with caution while the following around-the-clock restrictions are in place starting Wednesday, Sept. 8:
I-15 between mileposts 8 and 9, near the community of Littlefield, will be narrowed to one lane in each direction across the bridge.
A vehicle width limit of 10 feet and a weight limit of 129,000 pounds will be in place.
The speed limit in the construction zone will be reduced to 45 mph.
A new smartphone app designed to provide traffic information and project updates to I-15 drivers is now available for free download on Apple and Android devices. The app, called Virgin River Bridge, will provide updates of construction activities that likely will impact traffic flow on I-15.
The width and overweight restrictions mean that all vehicles wider than 10 feet or heavier than 129,000 pounds will need to use a 224-mile detour route during construction. Signs, as well as the new app, will direct oversize vehicles to the detour route of US 93, Nevada State Route 319 and Utah State Route 56 between Las Vegas and Cedar City, Utah.
Information from the app also is available on GPS navigation apps such as Drivewyze and Waze.
The $56 million bridge replacement project, which began in February, is scheduled to be completed in spring 2024.