I-40 Babbitts Tank Wash & Buffalo Range bridge rehabilitation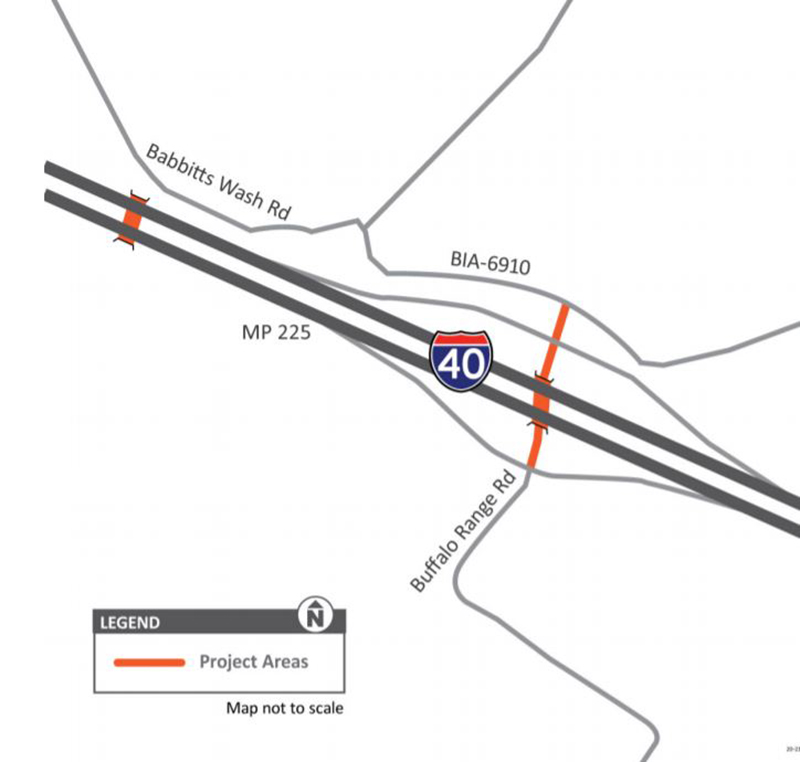 Overview
The Arizona Department of Transportation has initiated a project to rehabilitate the Babbitts Tank Wash (MP 224) and the Buffalo Range (MP 226) bridges at Interstate 40. The two bridges at I-40 are approximately 24 miles east of Flagstaff.
The purpose of the $3 million project is to extend the life of the bridges and provide a smooth ride for motorists.
Scope of Work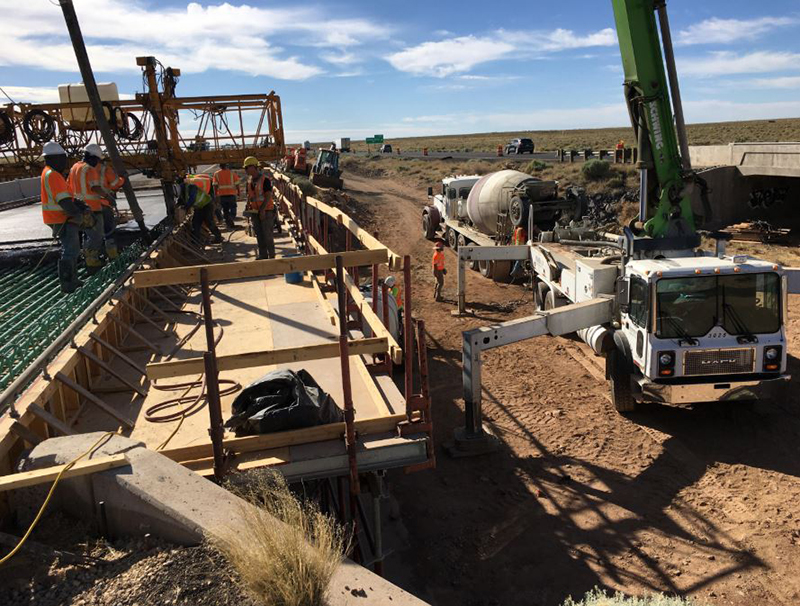 Crews place deck and approach concrete slabs at the Babbitts Tank Wash Bridge.
Babbitts Tank Wash Bridge (westbound only)
Remove and replace bridge deck with cast-in-place concrete slab bridge.
Replace approach slabs.
Mill and repave both sides of the bridge.
Replace embankment curb, bridge barrier and guardrail.
Buffalo Range Road Bridge
Remove concrete/debris and patch bridge deck.
Repair/replace broken or damaged deck reinforcements.
Seal the bridge deck.
Replace guard rail.
Project Schedule
Construction began May 2020 and is scheduled to be completed in 2021.
Schedules are subject to change based on weather or other unforeseen factors.
Traffic Impacts
Two-way traffic will be maintained throughout the construction project.
ADOT reminds drivers to slow down and use caution around construction personnel and equipment. Schedules are subject to change based on weather and other unforeseen factors.
Restrictions and Closures
For information about project-related restrictions and closures please visit az511.gov or call 511, except while driving.
ADOT will provide more information about project schedules and potential traffic impacts as information becomes available. Stay informed of traffic restrictions before they occur by subscribing to receive timely traffic alerts by email.
Contact
Online: Submit a question or comment through the ADOT website. Visit azdot.gov/Contact and then select Projects from the dropdown menu.
By phone: Call the ADOT Bilingual Project Information Line at 855.712.8530.
By mail: ADOT Communications, 1655 W. Jackson Street MD 123F, Phoenix, AZ 85007