I-40: Winona Bridge Rehabilitation
Overview
The Arizona Department of Transportation has initiated a project on Interstate 40 about 16 miles east of Flagstaff.
The work will rehabilitate the Winona bridge (milepost 211), which includes removing and replacing the existing bridge deck (the top surface of the bridge that vehicles drive on), guardrail, cattle guards and steel support beams on the bridge.
Project Map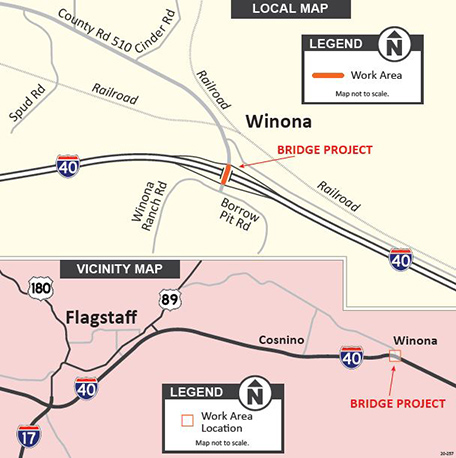 About the Project
The 277-foot steel girder bridge was originally constructed in 1967.
Construction will be phased so single-lane traffic can be maintained on Townsend-Winona Road, except during limited times during the project when detours will be established.
What to Expect During Construction
Intermittent, overnight closures of I-40

Drivers on I-40 will use the off- and on-ramps at the Townsend-Winona Road interchange to exit and re-enter the highway.

Townsend-Winona Road will be narrowed to one lane only of alternating north- and southbound travel during the project. This will enable crews to work on half of the bridge at a time. The interchange will be controlled by temporary traffic signals.
Project Schedule
Spring 2020 - Spring 2021
Schedule subject to change based on weather or other unforeseen factors.
Restrictions and Closures
For information about project-related restrictions and closures please visit az511.gov or call 511, except while driving.
ADOT will provide more information about project schedules and potential traffic impacts as information becomes available. Stay informed of traffic restrictions before they occur by subscribing(link is external) to receive timely traffic alerts by email.
Stay Informed
ADOT welcomes your questions and comments. Please contact us in any of these ways:
By email: Subscribe to receive project updates and traffic alerts.
By phone: Call the ADOT Bilingual Project Information Line at 855.712.8530.
Online: Submit a question or comment through the ADOT website. Visit azdot.gov/Contact and then select Projects from the dropdown menu.
By mail: Write to ADOT Community Relations, 1655 W. Jackson St., MD 126F, Phoenix, AZ 85007