Interstate 15: Black Rock Road Bridge Rehabilitation
Interstate 15: Black Rock Road Bridge Rehabilitation
Contents
This project is complete
Overview
Project Cost: $1,000,000
Project Area Map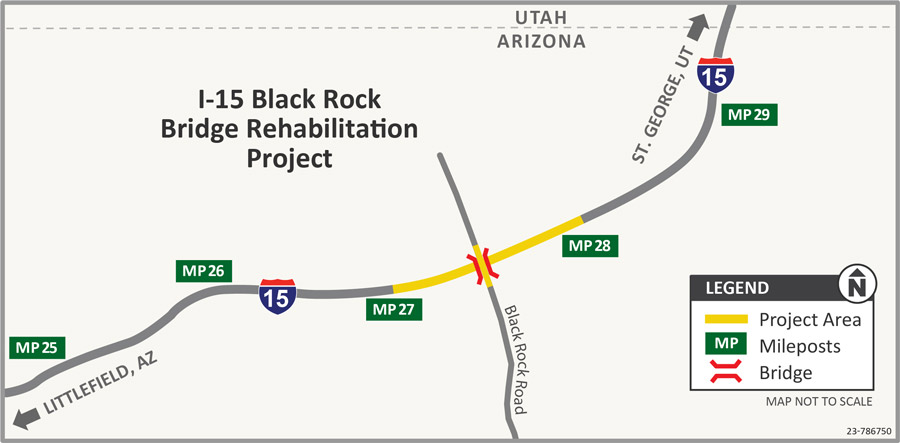 Click map to enlarge;
The Arizona Department of Transportation, in conjunction with the Federal Highway Administration, is initiating a rehabilitation project on the Interstate 15 Black Rock Road Bridge.
The construction project, which includes both the north- and southbound bridge structures, is located about two miles south of the Arizona-Utah state line (milepost 27) in the far northwestern part of the state. The project boundaries are between mileposts 27 -28. Construction is scheduled to begin in early 2023 and be completed in spring 2023.
The project is needed to increase the lifespan of the bridge over I-15. The work will include:
Placing a concrete surface along the entire bridge decks, which is the top portion of a bridge that motorists drive on.
Repaving  the approaches to provide a smooth transition to each bridge structure.
Removing and replacing the deck joints with new joints.
Removing and replacing the guardrails.
Other related work.
What to Expect During Construction
During construction, the Black Rock Road Bridge will be reduced to one lane in each direction during most of the construction. Additional traffic restrictions on north- and southbound I-15 will be in effect when work below the bridge takes place.
ADOT will post information about traffic restrictions and closures as it becomes available. To receive traffic alerts and other updates by email, please subscribe here.
You can also stay informed of real-time, project-related traffic restrictions by visiting az511.gov or call 511, except while driving.
Schedules are subject to change because of weather or other unforeseen factors. Remember to slow down and use caution around construction workers and equipment. 
Stay Informed 

By email: Subscribe to receive traffic alerts and project updates directly to your email.
By phone: Phone: ADOT Project Information Line: 855.712.8530
Teléfono: Línea de Información del Proyecto ADOT: 855.712.8530
Online: Submit a question or comment through the ADOT website by visiting azdot.gov/Contact and then select "Projects" from the dropdown menu.
By mail: Write to ADOT Community Relations, 1655 W. Jackson St., MD 126F, Phoenix, AZ 85007.
ADOT Project Number: 015 MO 27 F0308 01; Federal-Aid Number: NHPP 015-A(217)T