Interstate 15 Virgin River Bridge Rehabilitation
Travel Alert
I-15 Bridges 2,4,5
Expect delays between Mesquite, Nevada, and St. George, Utah and a 224-mile detour for loads wider than 10 feet.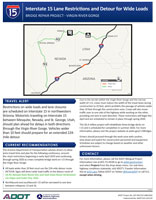 ADOT continues to upgrade the Virgin River Bridge structures located along Arizona's 29-mile-long portion of Interstate 15, a heavily traveled commercial and economic corridor which directly connects Nevada and Utah.
In 2016 two projects were completed. Construction was completed on a $2.8 million project, which included bridge rehabilitation on Bridge No. 2, 3 and No. 7.
An extensive rehabilitation project on Virgin River Bridge No. 6 was also completed in 2016. The $27 million project included replacing the bridge's superstructure (girders, deck and railings), as well as widening the roadway through the narrow passage of the scenic Virgin River Gorge.