Interstate 17: Intelligent Transportation System (ITS) Infrastructure Installation
Overview
The Arizona Department of Transportation has initiated a project to install high-speed fiber optic infrastructure along Interstate 17, between Camp Verde (milepost 296) and the I-40 Interchange in Flagstaff (milepost 340).
The purpose of this project is to install a high-speed fiber optic backbone along the entire project corridor, connecting existing Intelligent Transportation System (ITS) ITS devices with new ITS improvements.
The work on the 46-mile-long project includes installation of conduit and pull-box system, fiber optic cables, node building, load center and other related work.
What to Expect
Construction began fall 2021 and is anticipated to be completed in summer 2022. The project will take place in ADOT right-of-way, with easements in Coconino and Prescott National Forests. During construction, drivers on I-17 can expect single-lane closures during weekdays, with no weekend or holiday closures or restrictions anticipated.
Project Area Map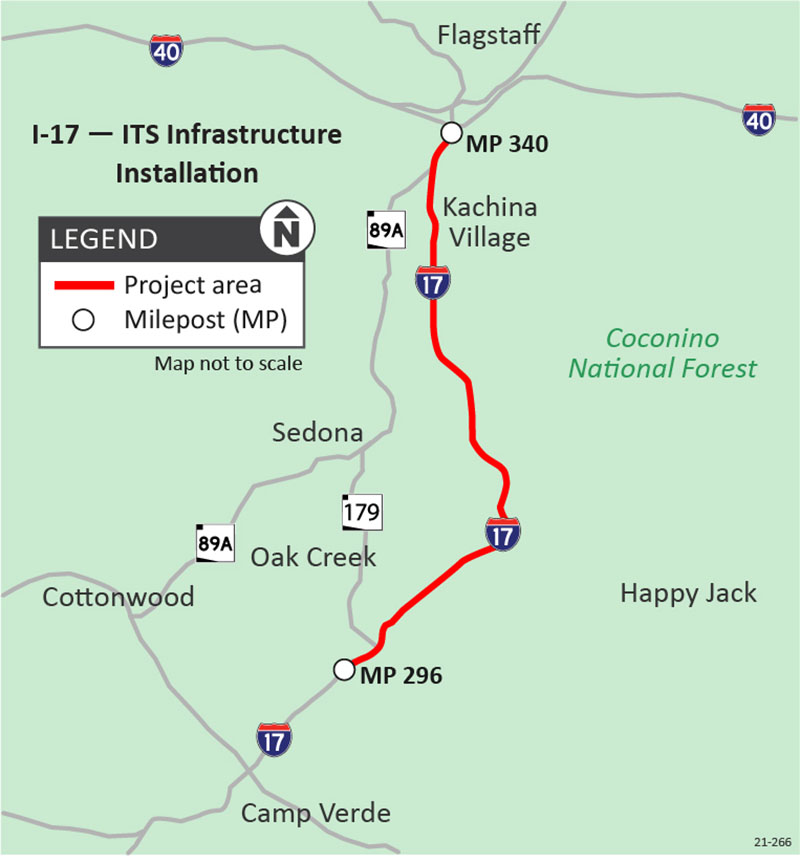 Stay Informed
By email: Subscribe to receive project updates and traffic alerts.
By phone: Call the ADOT Bilingual Project Information Line at 855.712.8530.
Online: Submit a question or comment through the ADOT website. Visit azdot.gov/Contact and then select Projects from the dropdown menu.
Twitter: Follow ADOT on Twitter (@ArizonaDOT) for real-time highway conditions statewide.