Interstate 40: A-1 Mountain Road Bridge Replacement - Flagstaff
Overview
The Arizona Department of Transportation, in conjunction with the Federal Highway Administration, has completed the replacement of the A-1 Mountain Road Bridge on Interstate 40. The bridge is approximately 5 miles west of the junction with Interstate 17 at milepost 190 in Flagstaff.
The $4.9 million project consisted of removing and replacing the existing bridge. The project was completed July 2022.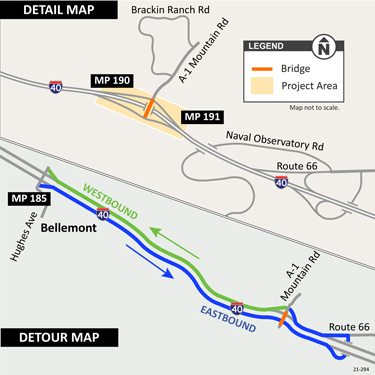 What to expect
Throughout construction, there were travel restrictions through the area. This included some overnight closures of I-40 when traffic was detoured to the A-1 Mountain Road on- and off ramps.
In addition, a 40-day temporary full closure of the A-1 Mountain Road Bridge was implemented to accelerate demolition of the existing bridge and construction of the new bridge.
During the full closure of the A-1 Mountain Road Bridge, eastbound I-40 drivers wanting to exit A-1 Mountain Road were detoured to Exit 191 to turn around and travel west to access A-1 Mountain Road. Drivers on A-1 Mountain Road who want to travel eastbound on I-40 first traveled westbound on I-40 and exited Hughes Avenue (Exit 185-Bellemont) to turn around and travel eastbound.
Stay Informed
Email: Subscribe to receive project updates and traffic alerts.
Phone: ADOT Project Information Line: 855.712.8530.
Teléfono: Línea de Información del Proyecto ADOT: 855.712.8530
Online: Submit a question or comment through the ADOT website. Visit azdot.gov/Contact and then select Projects from the dropdown menu.
Twitter: Follow ADOT on Twitter (@ArizonaDOT) for real-time highway conditions statewide.