Interstate 40: Interstate 17 to Walnut Canyon Road
Interstate 40: Interstate 17 to Walnut Canyon Road
This project is complete
Overview
The Arizona Department of Transportation in conjunction with the Federal Highway Administration is improving the roadway and traffic interchanges along a 10-mile stretch of Interstate 40 between Interstate 17 (milepost 195) and Walnut Canyon Road (milepost 205). The $16.4 million improvements and repairs include the following:
Mill and replace existing pavement on east- and westbound travel lanes and shoulders.
Mill and replace existing ramp pavement at four interchanges.
Repair bridge decks on all bridges within the project limits.
Replace existing barriers and guardrails as needed.
Project Area Map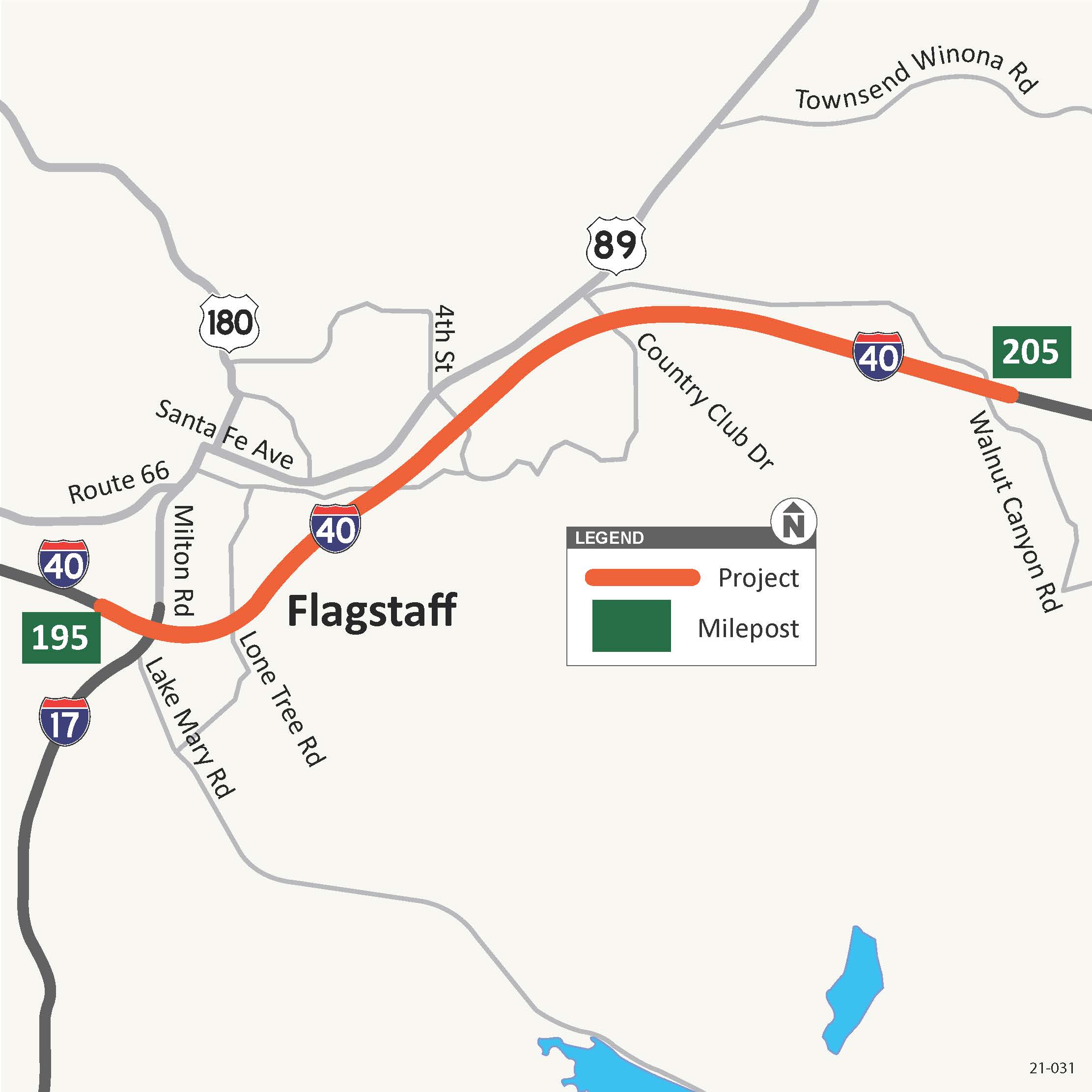 Construction is anticipated to begin in spring 2021 and last through approximately the fall of 2023, which includes a six-month- winter shutdown period. The project will occur within ADOT right-of-way. Access to businesses and residences will be maintained throughout construction. The purpose of this project is to improve roadway safety and extend the life of the pavement.
What to Expect
During construction, portions of the roadway will be reduced to a single lane. Motorists should expect slower traffic and delays. Additionally, motorists can expect some night work with on- and off-ramp closures while the ramps are being paved.
Stay Informed

By email: Subscribe to receive traffic alerts and project updates directly to your email.
By phone: Phone: ADOT Project Information Line: 855.712.8530
Teléfono: Línea de Información del Proyecto ADOT: 855.712.8530
Online: Submit a question or comment through the ADOT website by visiting azdot.gov/Contact and then select "Projects" from the dropdown menu.
By mail: Write to ADOT Community Relations, 1655 W. Jackson St., MD 126F, Phoenix, AZ 85007.

ADOT Project Number: 087 GI 229 F044801C; Federal-Aid Number: 087-B(228)T