Short Creek Bridge Rehabilitation, Colorado City
Project Overview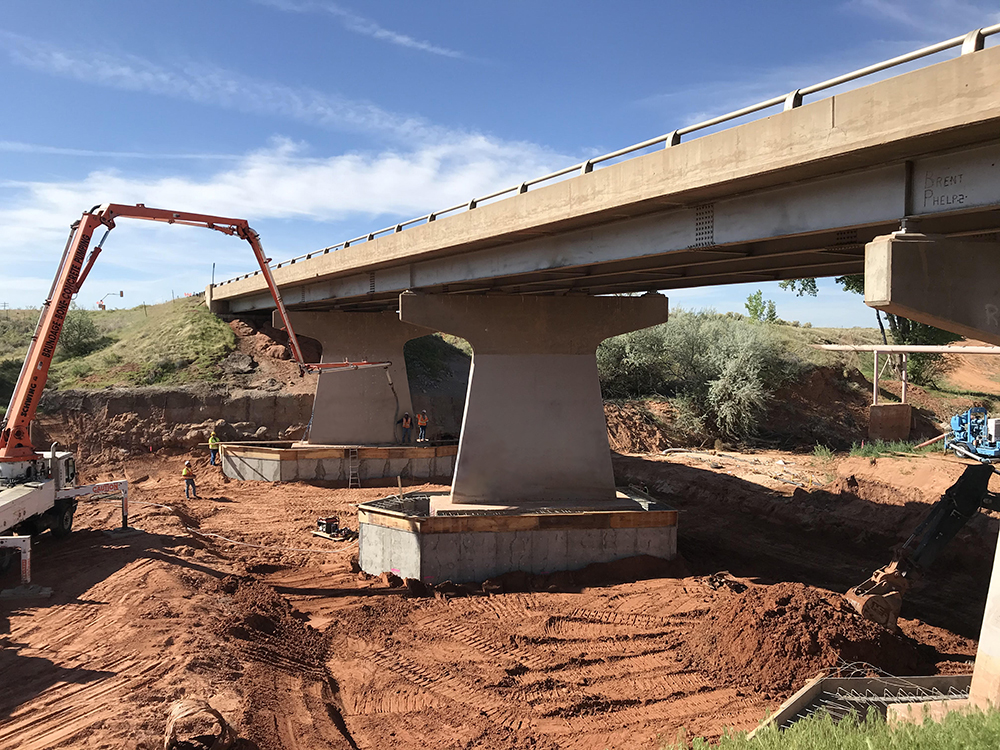 Scour protection for Short Creek Bridge – A construction crew pours slurry behind retaining walls to protect the bridge pier foundations from scour.
The Arizona Department of Transportation has initiated a project to rehabilitate the Short Creek Bridge on State Route 389 in Colorado City. The project area is located one mile from the Arizona-Utah border.
Work on this steel-girder bridge kicked off in October 2019 with crews doing scour and foundation protection work under the bridge. In April 2020, crews began replacing existing bridge barriers and bridge deck joints as well as upgrading guard rails.
This summer, crews are busy removing and replacing the bridge deck, which will be milled and then overlaid with concrete.
The $2.2 million project is expected to be completed in late summer 2020.
The 32-mile-long SR 389 resembles a half oval that stretches south from the Utah border and curves east through the Kaibab Paiute Indian Reservation before bending north to the city of Fredonia where it ends.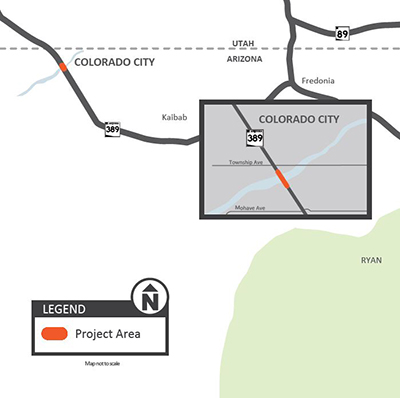 What to Expect
The two-lane Short Creek Bridge is currently narrowed to one lane of alternating travel. A traffic light allows north- and southbound drivers to take turns crossing the bridge. Crews currently are working Mondays through Thursdays during the day. Some night work will be done later in the project.
Restrictions and Closures
For information about project-related restrictions and closures please visit az511.gov or call 511, except while driving.
ADOT will provide more information about project schedules and potential traffic impacts as information becomes available. Stay informed of traffic restrictions before they occur by subscribing to receive timely traffic alerts by email.
Contact
Online: Submit a question or comment through the ADOT website. Visit azdot.gov/Contact and then select Projects from the dropdown menu.
By phone: Call the ADOT Bilingual Project Information Line at 855.712.8530.
By mail: ADOT Communications, 1655 W. Jackson Street MD 123F, Phoenix, AZ 85007