SR 179: Interstate 17 to Red Rock Vista
Overview
A pavement rehabilitation project about 5½ miles in length, south of Sedona and the Village of Oak Creek, is underway. The project zone is on State Route 179 from Interstate 17 (milepost 299) to one-quarter mile short of the Coconino National Forest facility (milepost 304). The existing asphalt roadway will be milled and replaced with 3½ inches of asphaltic concrete on top of a stress-reducing asphalt rubber membrane. The bridge over Dry Beaver Creek will have the deck milled and replaced with a polyester polymer concrete overlay. Other components of the project include guardrail and signage replacement, lane striping, and seeding.
Extensive roadside clearing will be involved, and the result will be a much safer stretch of SR 179. The project will:
Remove obstructions (such as trees) that errant drivers could hit.
Remove brush/trees that obstruct scenic views or sight (around curved sections).
Remove flammable vegetation from the roadway's edge.
Improve the edge-of-pavement/shoulder condition.
What to Expect
The project is expected to end in fall 2021 and will involve periodic lane restrictions for motorists on weekdays between 7 a.m. and 5 p.m., which could result in delays. No weekend travel restrictions are expected.
Project Area Map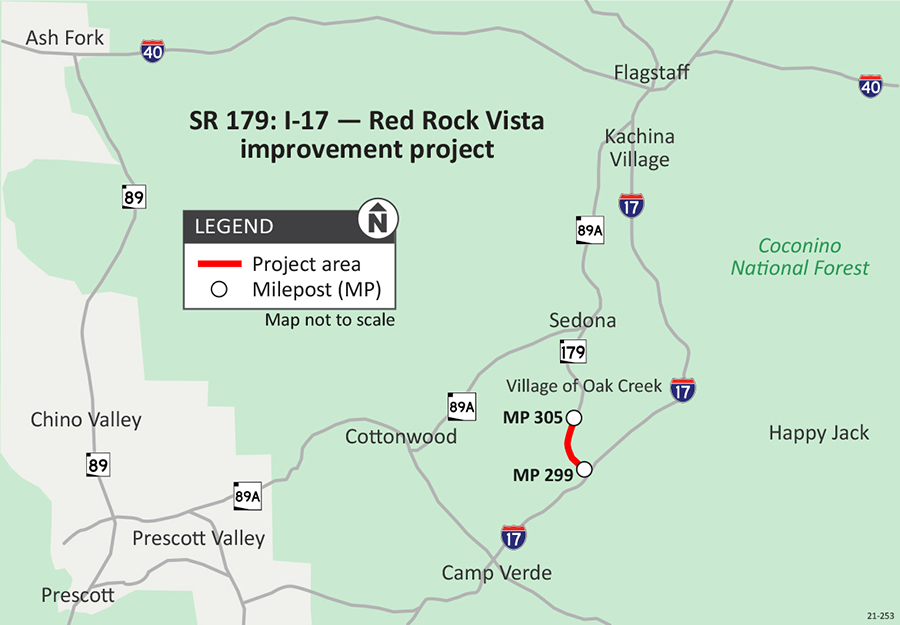 Stay Informed
By email: Subscribe to receive project updates and traffic alerts.
By phone: Call the ADOT Bilingual Project Information Line at 855.712.8530.
Online: Submit a question or comment through the ADOT website. Visit azdot.gov/Contact and then select Projects from the dropdown menu.