SR 87 Pine Creek Canyon Drive to SR 260
Shoulder widening and guardrail improvements on State Route 87 underway in June
Drivers should allow for extra travel time and possible daytime delays
---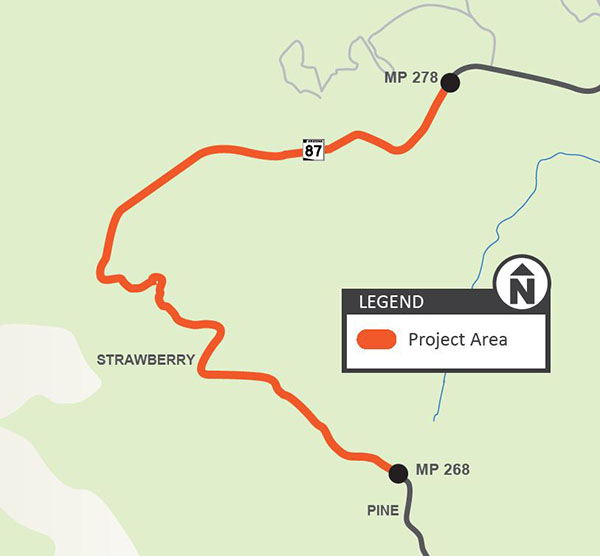 The Arizona Department of Transportation will be making improvements along State Route 87 north of Pine to the junction with State Route 260. Construction began in June between mileposts 268 and 278 in Gila and Coconino counties.
Work will consist of shoulder widening, guardrail improvements, roadway excavation, and other related work. The project is located within the Tonto and Coconino National forests.
What to expect during construction
The Arizona Department of Transportation is advising drivers to plan for lane restrictions on portions of a 10-mile segment of State Route 87 between Pine and the junction with State Route 260 that began Monday, June 14, and continue through the fall.
The following traffic restrictions will be in place from 6 a.m to 6 p.m. Mondays through Thursdays and from 6 a.m to noon on Fridays:
Portions of SR 87 will be narrowed to one lane only with alternating north- and southbound travel between mileposts 268 and 278.
There may be several lane restrictions at one time within the 10-mile project area.
The lane closures will be limited to a half-mile in length and two miles from one another to help minimize delays to the traveling public.
Flaggers and a pilot car will guide drivers through the construction area.
12-foot vehicle width restriction in the work zone (Note: wider loads can be accommodated with notification at least 12 hours in advance).
Possible travel delays of 15 minutes or longer.
Reduced speed limit in the work zone.
Drivers should allow extra time and adjust their travel times accordingly. Other factors that may affect construction work include fire restrictions in the area and other unforeseen circumstances.
Stay Informed
For information about current project-related restrictions and closures, please visit az511.gov or call 511, except while driving.
ADOT will provide more information about project schedules and potential traffic impacts as information becomes available. Stay informed about traffic restrictions before they occur by subscribing to receive timely traffic alerts by email.
ADOT welcomes your questions or comments. Please feel free to contact us in any of the following ways:
By email - Subscribe to receive project updates and traffic alerts.
Online - Submit a question or comment through the ADOT website. Visit azdot.gov/Contact and then select "Projects" from the dropdown menu.
By phone - Call the ADOT Bilingual Project Information Line at 855.712.8530.
By mail - Write to ADOT Community Relations, 1655 W. Jackson St., MD 126F, Phoenix, AZ 85007.