US 180: Route 66 - Aspen Avenue
The Arizona Department of Transportation has initiated a project to improve the intersection at
US 180 and Historic Route 66 (B40) in Flagstaff. The work will consist of adding a second right-turn lane at the intersection for drivers approaching the intersection from southbound US 180.
Other work includes installation of traffic signals, sidewalk and sidewalk ramps, curb and gutter, storm drain pipes, landscaping and other related work on US 180 and Aspen Avenue. The project area is adjacent to Flagstaff City Hall near downtown.
Project Area Map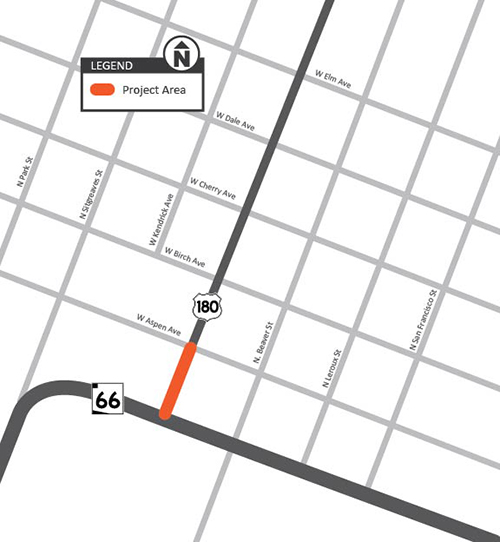 Construction Timeline
Work is scheduled from July 2020 through fall 2020
Schedules are subject to change because of weather and other unforeseen conditions.
What to Expect During Construction
The following traffic restrictions will be in place on US 180 (Humphreys Street) during the construction project:
Southbound US 180: No left turns south of Cherry Avenue, including at the intersections of Cherry Avenue, Aspen Avenue and US 180/Historic Route 66.
Northbound 180: No left turn at Aspen Avenue (use Birch Avenue as detour).
One northbound and one southbound lane will remain open on US 180 during construction.
A short detour will be established for drivers on southbound US 180, who want to either proceed east on Historic Route 66 (I-40B) or access hotels and other businesses located along US 180 between Dale Avenue and State Route 66 (I-40B). See map for detour.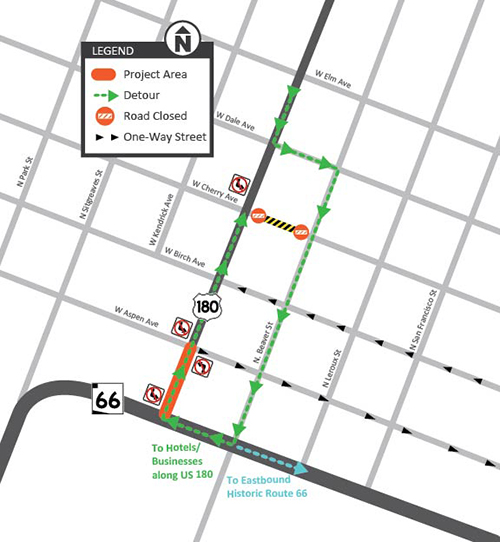 In addition, southbound US 180 will be narrowed to two lanes at the intersection of US 180 and Historic Route 66 (B40).
The intersections of US 180 and Historic Route 66 (B40) and US 180 and Aspen Avenue will need to be closed a few times during the project in order to move large construction equipment. To minimize traffic impacts, the full intersection closures will be limited to overnight hours only.
ADOT will provide information about restrictions and closures in advance so drivers can plan to use alternate routes and allow extra time.
Restrictions and Closures
For information about project-related restrictions and closures please visit az511.gov or call 511, except while driving.
ADOT will provide more information about project schedules and potential traffic impacts as information becomes available.
Stay Informed!
ADOT welcomes your questions and comments. Please contact us in any of these ways:
By email: Subscribe to receive project updates and traffic alerts.
By phone: Call the ADOT Bilingual Project Information Line at 855.712.8530.
Online: Submit a question or comment through the ADOT website. Visit azdot.gov/Contact and then select Projects from the dropdown menu.
By mail: Write to ADOT Community Relations, 1655 W. Jackson St., MD 126F, Phoenix, AZ 85007