SR 73: Rim Tank-Canyon Day
Plan for alternating lane restrictions, closures on State Route 73 near Fort Apache in eastern Arizona beginning April 20
Drivers should expect delays and allow extra travel time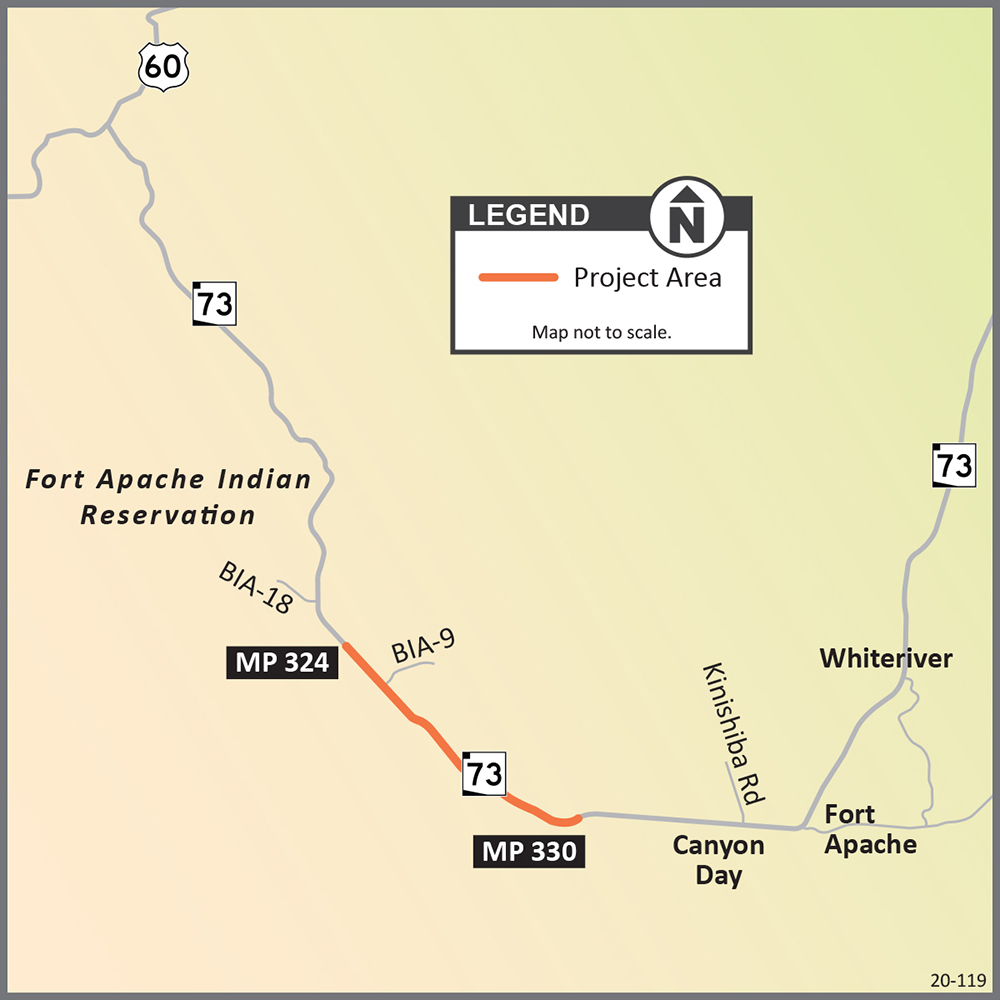 The Arizona Department of Transportation advises drivers to plan for lane restrictions – and, at times, lane closures - for the next several months on State Route 73 near Fort Apache beginning Monday, April 20.
ADOT reminds drivers to slow down and use caution around construction personnel and equipment while the following restrictions are in place:
Alternating lane closures on north- and southbound SR 73 between mileposts 324 and 330 from 6 a.m. to 6 p.m. Mondays through Fridays, starting April 20 and ending in late May.
Lane closures for paving and chip-seal operations during June and July.
Traffic restrictions will continue through August to complete other project-related work.
A 10-foot vehicle width restriction will be in place.
The speed limit will be reduced to 25 mph.
Flaggers and, at times, a pilot vehicle will direct motorists through the work zone.
Traffic-control restrictions will be lifted after crews finish working each day.
Drivers should allow extra time and plan for delays up to 15 minutes through May. During paving operations in June and July, drivers should expect delays up to 20 minutes.
The road restrictions are needed as crews remove and replace pavement with new asphalt – referred to as "mill and fill" – along a 6-mile stretch of SR 73 near the Fort Apache community on the Fort Apache Indian Reservation. Fort Apache is about 30 miles south of Show Low.
After paving operations, crews will apply a chip-seal coating on top of the newly paved section of roadway. In addition, crews will make shoulder improvements, extend pipe culverts (used to pass water underneath the road), and install new guardrail and pavement markings.
The project, scheduled to be completed in summer 2020, is being done to help preserve the condition of the highway and extend the life of the pavement.
With state highways essential to delivering goods and services, ADOT, its employees and its contractor partners are dedicated to delivering transportation improvement projects during the current public health situation. To learn more, please visit our Covid-19 Resource Center.