US 160: Long House Valley-Kayenta Pavement Rehabilitation Project
Overview
The Arizona Department of Transportation will begin a pavement preservation and rockfall mitigation project on US 160 between Long House Valley and Kayenta. The project is located on US 160 just south of Kayenta, between mileposts 372 and 389 on the Navajo Nation.
The project will include removing the existing pavement and replacing it with new pavement, removing and replacing guardrail, constructing cattle guards, removing loose rock, replacing signage and other related work.
Project Area Map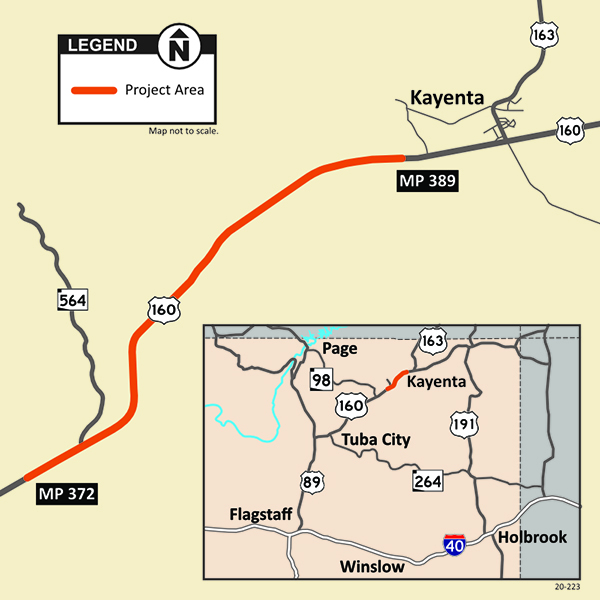 What to expect during construction
During construction, lane restrictions may be needed for crews to safely work on the roadway. As a result, drivers should expect slower traffic and delays. Details regarding traffic restrictions will be updated and posted on this project web page prior to the start of work.
ADOT reminds drivers to proceed through the work zone with caution, slow down and watch for construction personnel and equipment.
Project Schedule
Construction work will begin Sept. 20 and will span over two construction seasons. Construction will shut down for the winter as pavement work cannot be performed during the winter months due to low temperatures and wet weather conditions.
Schedule subject to change based on weather or other unforeseen circumstances.
Current Restrictions and Closures
ADOT advises drivers to plan ahead for possible delays while the following traffic restrictions will be in place:
East- and westbound US 160 will be narrowed to one lane of alternating travel weekdays from 6 a.m. to 6 p.m. beginning Monday, Sept. 20, and continuing through March 2022.
Drivers need to be prepared to slow down and stop in the work zone and use caution around construction personnel and equipment while the restrictions are in place.
For information about project-related restrictions and closures please visit az511.gov or call 511, except while driving.
Stay informed of traffic restrictions before they occur by subscribing to receive project updates and traffic alerts by email.
Stay Informed
ADOT welcomes your questions and comments. Please contact us in any of these ways:
Online: Submit a question or comment through the ADOT website. Visit azdot.gov/Contact and then select Projects from the dropdown menu.
By phone: Call the ADOT Bilingual Project Information Line at 855.712.8530.
By mail: Write to ADOT Community Relations, 1655 W. Jackson St., MD 126F, Phoenix, AZ 85007.