US 180: Jim Camp Wash & Cottonwood Wash Bridges
Overview
The Arizona Department of Transportation has initiated a project located on US 180, southeast of Holbrook between MP 325 and 326. The work will rehabilitate the Jim Camp Wash Bridge at MP 325 and Cottonwood Wash Bridge at MP 326 on US 180. The work consists of:
Remove and replace bridge decks (surface).
Remove and replace bridge approach slabs.
Remove and replace bridge barrier and guardrail.
Add embankment curb.
Other related work.
Project Map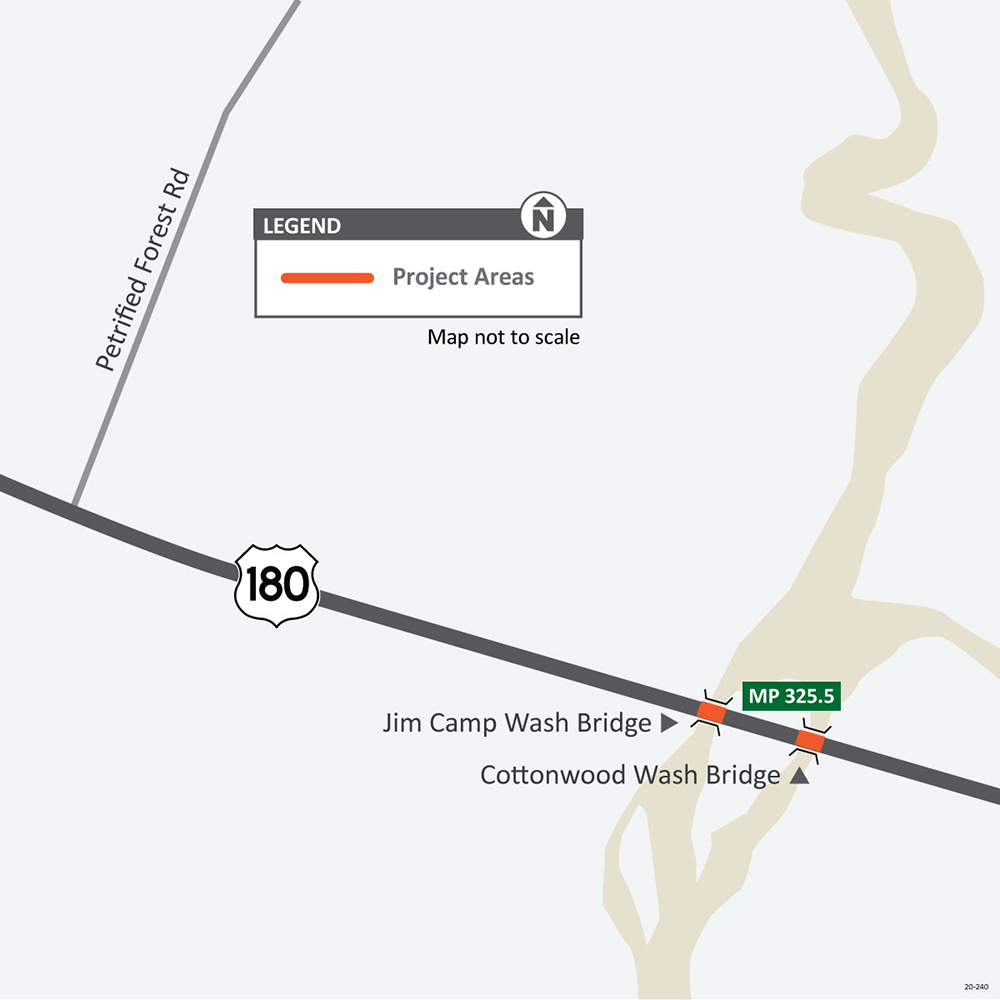 About the Project
The bridges were originally built in 1971 (Jim Camp Wash) and 1972 (Cottonwood Wash).
The bridges are being reconstructed concurrently, but in phases to keep US 180 open to the traveling public. This is being done by working on only half of the bridges at one time.
Phase I is now complete, and phase II is just beginning with the demolition of the second half of each bridge.
Check out photos from the work zone on our Flickr Album.
Traffic Impacts
US 180 between MP 325 and 326 is narrowed to one lane only of alternating north- and southbound traffic, which is controlled by a traffic signal.
Expect short delays at the traffic signal.
A 14-foot, vehicle-width restriction is in place on both the bridges.
The speed limit is 15 mph on both the bridges.
ADOT reminds drivers to slow down and use caution around construction personnel and equipment.
Schedules are subject to change based on weather and other unforeseen factors.
Restrictions and Closures
For information about project-related restrictions and closures please visit az511.gov or call 511, except while driving.
ADOT will provide more information about project schedules and potential traffic impacts as information becomes available. Stay informed of traffic restrictions before they occur by subscribing to receive timely traffic alerts by email.
Project Schedule
Schedule subject to change based on weather or other unforeseen factors.
Stay Informed
ADOT welcomes your questions and comments. Please contact us in any of these ways:
By email: Subscribe to receive project updates and traffic alerts.
By phone: Call the ADOT Bilingual Project Information Line at 855.712.8530.
Online: Submit a question or comment through the ADOT website. Visit azdot.gov/Contact and then select Projects from the dropdown menu.
By mail: Write to ADOT Community Relations, 1655 W. Jackson St., MD 126F, Phoenix, AZ 85007