US 60: 40th Street - State Route 61 Pavement Rehabilitation project
Overview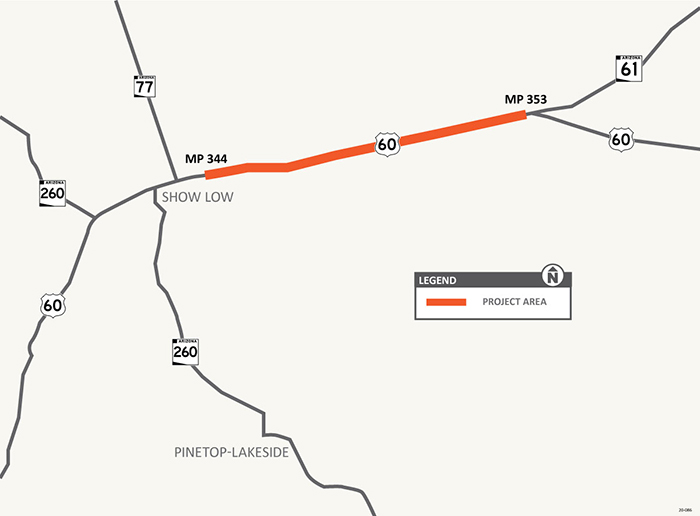 The Arizona Department of Transportation and Federal Highway Administration are starting a new pavement preservation project on the US 60 that is located in the city of Show Low and Navajo and Apache counties.
ADOT crews will remove the existing pavement and replace it with new pavement along 9 miles of US 60 between 40th Street and State Route 61 (between mileposts 344 and 353). Work on the $4.6 million project is scheduled to begin in late April and continue for approximately six months.
Other elements of the project include:
Applying a chip-seal coating on top of the newly paved section of roadway
Performing rehabilitation work on a bridge within the project area
Installing new guard rail and pavement markings
The pavement preservation project, which will generate construction-related noise, is being done to protect the condition of the highway and extend the life of the roadway.
Traffic Impacts
Drivers in the Show Low area should plan for traffic delays on US 60 through Friday, Aug. 21, as work continues on the US 60: 40th Street to State Route 61 pavement rehabilitation project east of the Show Low Regional Airport.
The Arizona Department of Transportation reminds drivers to slow down in work zones and observe the posted speed limit and other construction signs while the following restrictions are currently in place:
Portions of US 60 narrowed to one lane total with a flagging operation for east- and westbound travel between 40th Street and SR 61 (mileposts 344 to 353).
The restrictions are in place from 3 a.m. to 4:30 p.m. Monday through Friday and will continue through Friday, Aug. 21.
Flaggers, law enforcement officers and a pilot car will help guide drivers through the work zone.
A 10-foot, vehicle width restriction is currently in place.
The speed limit is reduced to 25 mph.
The highway fully reopens each day immediately after construction work hours.
Restrictions and Closures
For information about project-related restrictions and closures please visit az511.gov or call 511, except while driving.
ADOT will provide more information about project schedules and potential traffic impacts as information becomes available. Stay informed of traffic restrictions before they occur by subscribing to receive timely traffic alerts by email.
Schedule
Spring 2020: Construction begins
Fall 2020: Construction ends
Schedules are subject to change based on weather or other unforeseen factors.
Contact
Online: Submit a question or comment through the ADOT website. Visit azdot.gov/Contact and then select Projects from the dropdown menu.
By phone: Call the ADOT Bilingual Project Information Line at 855.712.8530.
By mail: ADOT Communications, 1655 W. Jackson Street MD 123F, Phoenix, AZ 85007