US 60: Salt River Canyon-Show Low Roadway Departure Safety Project
The Arizona Department of Transportation, in partnership with the Federal Highway Safety Improvement Program (HSIP), has initiated a safety project to establish a roadway departure zone along US 60 between mileposts 301-340. The 39-mile-long project is located mostly on the Fort Apache Indian Reservation, with small portions in the Apache-Sitgreaves National Forest and the city of Show Low.
A roadway departure zone is an unobstructed roadside area - adjacent to the roadway - that provides drivers who leave the road in a crash incident adequate distance to stop or regain control of their vehicles. The project, which will also increase driver visibility along the corridor, will enhance safety to both drivers and their passengers.
Project Overview
Due to existing trees, shrubs and other vegetation along this portion of the US 60, the existing roadway departure zone does not meet state or federal standards. As a result, ADOT needs to remove the vegetation to re-establish the departure zone.
As part of the project, crews will remove vegetation - including trees, shrubs, logs and upturned stumps - that present a hazard to drivers on both sides of the US 60. The roadway departure zone clearance areas will be 5 feet behind guardrails (where guardrail exists) and 30 feet in all other locations. The work will be completed within ADOT's right of way. The project also includes seeding, pruning, chipping, cutting, hauling and stockpiling usable firewood.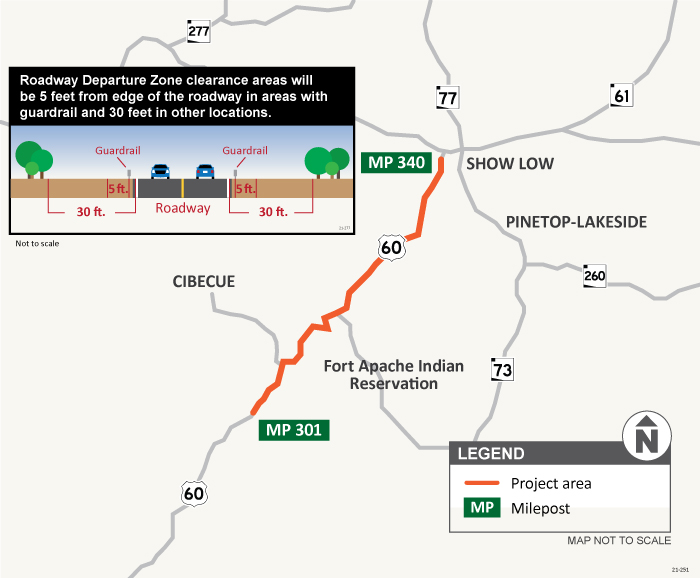 Project Need
Approximately 60% of all roadway fatalities in Arizona are the result of drivers leaving the road, referred to as "roadway departure crashes." Trees are the single-most commonly struck objects in serious roadside crashes. A total of 587 crashes, including 11 fatal and 34 serious injury crashes, occurred on this segment of the US 60 over the 10-year period between 2011 and 2020. Many of these crashes involved vehicles leaving the roadway.
Due to the high percentage of fatal and serious-injury crashes of this nature, Arizona is currently classified as a Roadway Departure Focus State by the Federal Highway Administration. Thus, it is critically important that ADOT completes safety projects statewide to maintain or create "roadway departure zones" for drivers. Removing trees and other vegetation will enhance safety and save lives by providing drivers with more recovery space for collision avoidance or reduce collision severity when a vehicle leaves the road.
ADOT received a federal HSIP grant to pay for 95% of the project.
What to expect during construction
The work will occur during daytime hours, Mondays through Fridays. No work is planned during weekends or holidays. One lane of traffic will remain open at all times on US 60, and existing turn lanes will also stay open. Barricades or other traffic-control devices will be removed after crews finish working each day.
ADOT reminds drivers to proceed through the work zone with caution, slow down and watch for construction personnel and equipment.
Project schedule
The project is expected to begin before the end of this year and take approximately two months to complete. The schedule is subject to change based on weather or other unforeseen factors.
Reuse of trees
Through a cooperative agreement between ADOT and the White Mountain Apache Tribe, trees removed from tribal land will be stored on the Fort Apache Indian Reservation and distributed to tribal community members in need of firewood for the winter. Trees removed within the Apache-Sitgreaves National Forest and Show Low city limits will be reused by the agencies.
Stay Informed
For information about project-related traffic restrictions, please visit az511.gov or call 511, except while driving. You can also stay informed of traffic restrictions before they occur by subscribing to receive traffic alerts and project updates by email.
Submit questions and comments or request information in any of the following ways:
Online: Visit azdot.gov/Contact and then select "Projects" from the dropdown menu.
By phone: Call the ADOT Bilingual Project Information Line at 855.712.8530.
By mail: Write to ADOT Community Relations, 1655 W. Jackson St., MD 126F, Phoenix, AZ 85007.