Pedestrian Hybrid Beacon at Acoma Boulevard and Pima Drive North, Lake Havasu City
Lake Havasu City and the Arizona Department of Transportation have initiated a safety improvement project to install a Pedestrian Hybrid Beacon (PHB), or High Intensity Activated Crosswalk, at the intersection of Acoma Boulevard and Pima Drive North.
What to Expect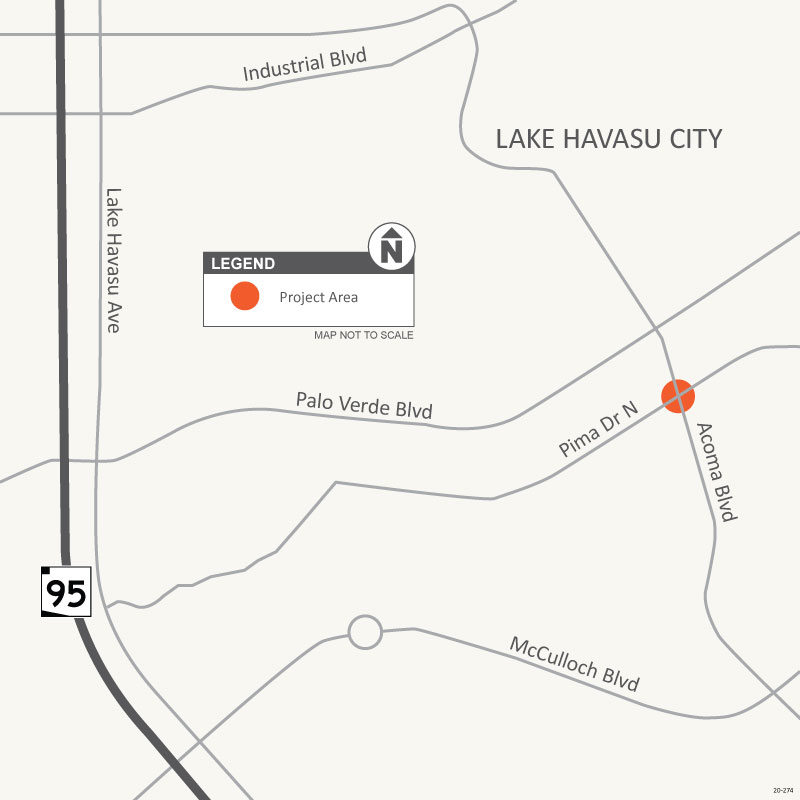 On-site prep work, which began Jan. 25, and will continue through March, will include removing the existing concrete and establishing underground utility connections. The new sidewalks, ramps and traffic poles will be installed in early April. The PHB is expected to be operating in late April.
Motorists should be prepared for brief delays and intermittent lane closures through late April 2021.
Work will take place from 6 a.m. to 5 p.m. Mondays through Thursdays.
One travel lane will remain open in each direction.
The speed limit will be reduced in the work zone.
Vehicles should proceed with caution, slow down and watch for construction personnel and equipment.
The new traffic control device is designed to help pedestrians safely cross busy or higher-speed roadways at midblock crossings and uncontrolled intersections. Visit the Pedestrian Hybrid Beacon page for additional information, including an instructional video.
Project Schedule
January through May 2021 (final lane striping and sign installation is expected in May)
Schedule subject to change based on weather or other unforeseen factors.
Restrictions and Closures
For information about project-related restrictions and closures please visit az511.gov or call 511, except while driving. Stay informed of traffic restrictions before they occur by subscribingto receive timely traffic alerts by email.
Stay Informed
ADOT welcomes your questions and comments. Please contact us in any of these ways:
By email: Subscribe to receive project updates and traffic alerts via email.
By phone: Call the ADOT Bilingual Project Information Line at 855.712.8530.
Online: Submit a question or comment through the ADOT website. Visit azdot.gov/Contact and then select "Projects" from the dropdown menu.
By mail: Write to ADOT Community Relations, 1655 W. Jackson St., MD 126F, Phoenix, AZ 85007