State Route 89 to Deep Well Ranch Road Widening Project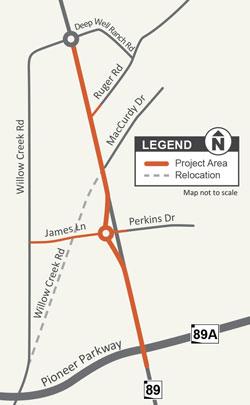 The Arizona Department of Transportation in conjunction with the Federal Highway Administration is planning to widen the current two-lane roadway, State Route 89 in Prescott, Yavapai County, to a four-lane divided highway with a raised center median. The project includes a new roundabout at Perkins Drive, additional widening under the SR 89A overpass to accommodate left-turn movements in both directions and new sidewalks. Additionally, James Lane will be constructed, tying in to the west onto the new Willow Creek realignment.
During construction, one through lane of traffic will be maintained in each direction except during short-term temporary periods when lane restrictions will be controlled by flaggers. Residential and business access will be maintained throughout construction.
Construction is scheduled to begin June 2018.
For more Information
Please subscribe to receive traffic alerts and project updates by email. Submit questions and comments or request information in any of the following ways:
ADOT Bilingual Project Information Line: 855.712.8530
Online: Visit azdot.gov/contact and select Projects from the drop-down menu
By Mail: ADOT Communications, 1655 W. Jackson St., MD 126F, Phoenix, AZ 85007