State Route 95, Right-Turn Lane at Marina Boulevard, Bullhead City
The Arizona Department of Transportation has initiated a project to construct a right-turn lane on State Route 95 at Marina Boulevard in Bullhead City. Construction is scheduled to begin in June and be completed in the fall.
Work includes widening the roadway shoulder, installing new curb and gutter, replacing traffic signal poles, relocating electrical cabinets, paving and lane striping.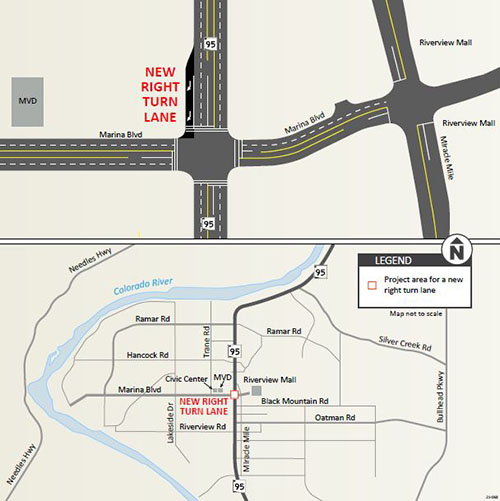 What to Expect
Construction will mostly take place during the overnight hours from 8 p.m. to 5 a.m. from Sunday evenings through Thursday mornings.
Most of the work will take place off the roadway; however, there will be times when intermittent lane closures will be necessary.
ADOT reminds motorists to slow down in the work zone, and use caution around construction personnel and equipment.
Project Schedule
June 2021 through fall 2021
Schedule subject to change based on weather or other unforeseen factors.
Restrictions and Closures
For information about project-related restrictions and closures please visit az511.gov or call 511, except while driving.
ADOT will provide more information about project schedules and potential traffic impacts as information becomes available. Stay informed of traffic restrictions before they occur by subscribing to receive timely traffic alerts by email.
Stay Informed
ADOT welcomes your questions and comments. Please contact us in any of these ways:
By email: Subscribe (link is external) to receive project updates and traffic alerts via email.
By phone: Call the ADOT Bilingual Project Information LIne at 855.712.8530.
Online: Submit a question or comment through the ADOT website. Visit azdot.gov/Contact and then select "Projects" from the drop down menu.
By mail: Write to ADOT Community Relations, 1655 W. Jackson St., MD 126F, Phoenix, AZ 85007.