Weekend Freeway Travel Advisory
No closures in Phoenix area
Drivers should focus on safety, especially in existing work zones
PHOENIX – – Drivers won't have to detour around any full freeway closures for construction or maintenance projects in the Phoenix area this weekend (Dec. 13-16), according to the Arizona Department of Transportation. No weekend closures are scheduled.
As the holiday travel season continues, drivers should focus on safe driving and stay alert while obeying lower speed limits within existing freeway improvement project work zones.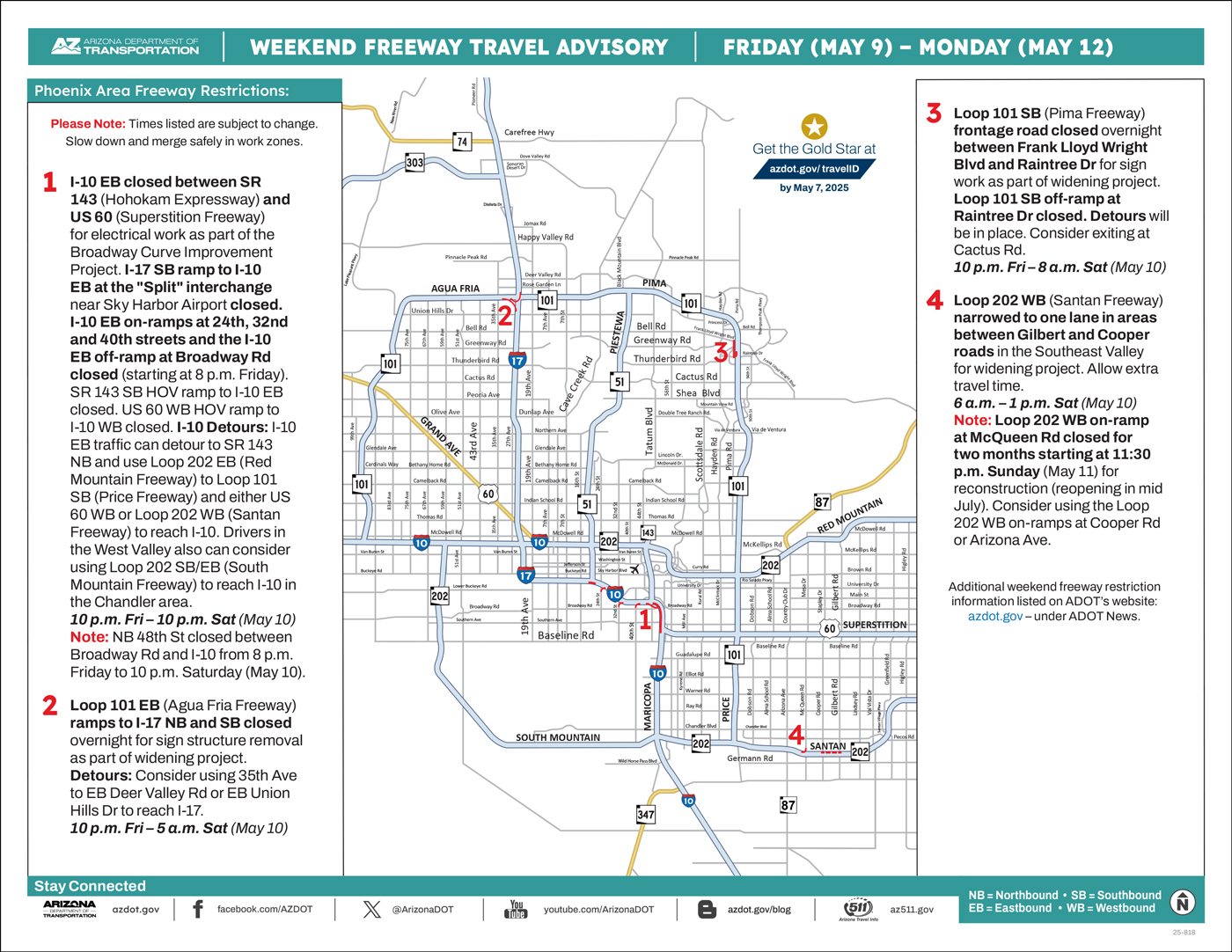 Real-time highway conditions are available on ADOT's Arizona Traveler Information site at az511.gov, by calling 511 and through ADOT's Twitter feed, @ArizonaDOT. When a freeway closure or other major traffic event occurs, our free app available at ADOTAlerts.com will send critical information directly to app users in affected areas – where possible, in advance of alternate routes.
Restrictions such as weekend ramp closures in the Phoenix area will be posted at azdot.gov, under ADOT News (look for "Additional Weekend Freeway Restrictions"). Visit the site to also subscribe to ADOT email and text updates, including future weekend restriction information.
Another great way to find more about ADOT's projects and programs to improve Arizona's transportation system is the ADOT Blog at azdot.gov/blog.
ADOT plans and constructs new freeways, additional lanes and other improvements as part of the Regional Transportation Plan for the Maricopa County region. The primary funding source for regional freeway improvements is a half-cent sales tax approved by county voters in 2004. More information about ADOT projects and the regional plan is available at azdot.gov/projects.