Traffic Alerts
On-going restrictions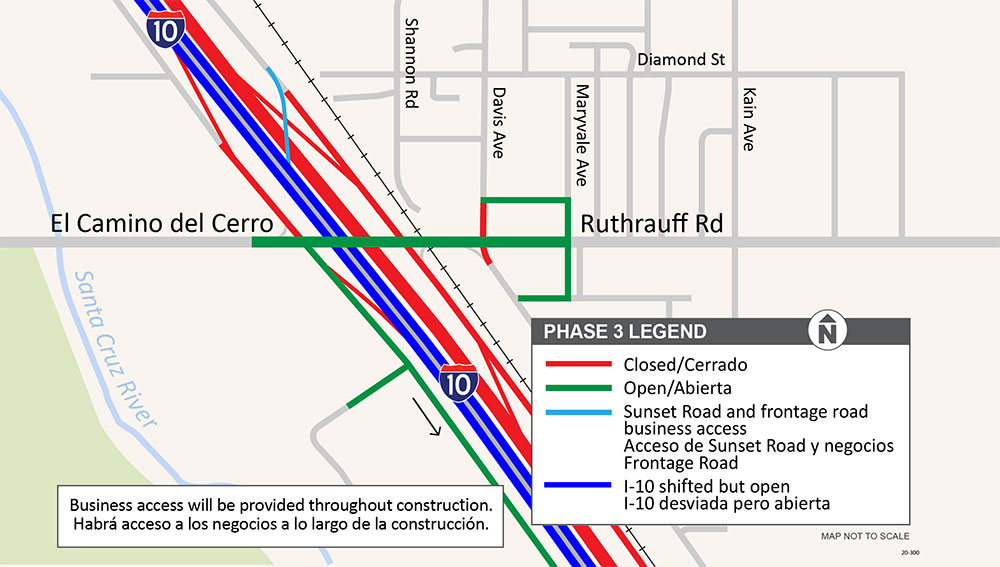 Ruthrauff Road/El Camino del Cerro is open to traffic across I-10 with a single lane in each direction. Intermittent work on the bridge is on-going. Expect occasional adjustments to lane configurations.
All ramps between I-10 and Ruthrauff Road/El Camino del Cerro are closed.
The ramp from westbound I-10 to Sunset Road is located in a temporary location and also provides access to westbound frontage road businesses.
The eastbound frontage road has been converted into a two-way road south of Sunset Road. There is no direct access to El Camino del Cerro from the frontage road.
The westbound frontage road is closed between Prince and Ruthrauff roads.
Davis Avenue/Highway Drive are closed between Chester Way and Violet Ave.
Schedules are subject to change based on weather and other unforeseen factors. For more information, please call the ADOT Bilingual Project Information Line at 855.712.8530 or go to azdot.gov/contact and select Projects from the drop-down menu. For real-time highway conditions statewide, visit ADOT's Traveler Information Site at www.az511.gov, follow ADOT on Twitter (@ArizonaDOT) or call 511, except while driving.