Interstate 10: Houghton Road Traffic Interchange
The Interstate 10/Houghton Road traffic interchange is being reconstructed to improve traffic operations. While the vast majority of work was completed in late 2021, some temperature-specific work remains.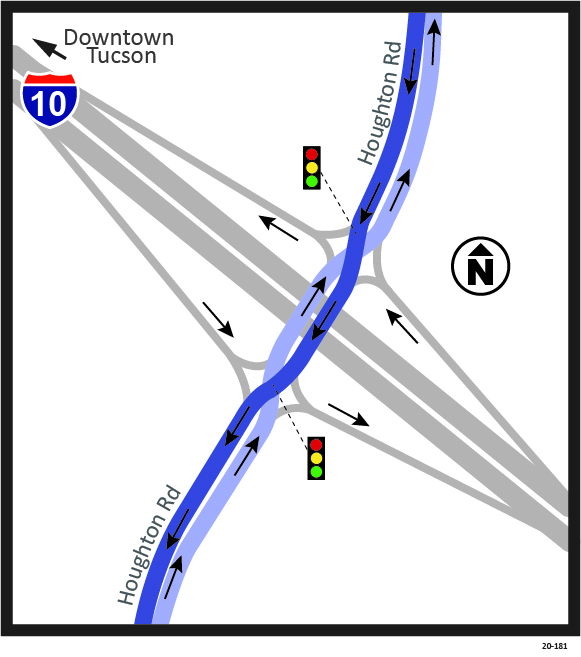 Key elements of the project:
Construct a new, wider Houghton Road bridge over I-10 just west of the existing bridge
Widen Houghton Road to three lanes in each direction through the new interchange
Reconfigure the interchange as a Diverging Diamond Interchange (DDI)
Realign Rocket Road on the north side of the interchange
Improve accessibility for bicycles and pedestrians
The project will connect to the new improvements north of I-10 constructed by the city of Tucson. In addition, the county is completing improvements to the south of I-10.
Business access will be maintained throughout the project.
Timeline
The I-10/Houghton Road traffic interchange reconstruction project began in late August 2020 and will extend through late 2021. Final paving on I-10 will be completed in spring 2022.
Traffic Restrictions
Overnight restrictions on I-10 will be needed in spring 2022 for final paving. Minor lane restrictions on the interchange are possible for final cleanup and punch list work.
Background
The Arizona Department of Transportation (ADOT), in partnership with the Federal Highway Administration (FHWA), initiated a design concept study and related environmental studies to evaluate an interchange reconstruction at Houghton Road and I-10 in Tucson, Arizona.
Considerable growth is anticipated along the I-10 corridor in the coming years, with projections indicating volumes will increase by 50% by 2045. Similarly, Houghton Road expects substantial increases in traffic, with projections showing a 500% increase north of I-10 and 200% increase south of I-10. The reconstructed interchange will provide relief for motorists accessing existing and planned residential and business developments in the surrounding areas.
The Design Concept Report was completed in April 2018.
Stay Informed
Schedules are subject to change based on weather and other unforeseen factors. Subscribe to receive project updates and traffic alerts by email. For more information, please call the ADOT Bilingual Project Information Line at 855.712.8530 or submit a question or comment by email. For real-time highway conditions statewide, visit ADOT's Traveler Information Site at www.az511.gov, follow ADOT on Twitter (@ArizonaDOT) or call 511, except while driving.