Interstate 10: Ruthrauff Road Traffic Interchange
The Interstate 10/Ruthrauff Road traffic interchange will be reconstructed to improve traffic operations on both roadways.
Key elements of the project:
Lower I-10 to go beneath Ruthrauff Road
Raise Ruthrauff Road to go over Davis Avenue/Highway Drive, the Union Pacific Railroad and I-10
Widen I-10 to four lanes in each direction
Widen Ruthrauff Road to two lanes in each direction
Reconstruct the I-10 frontage roads to connect to the elevated Ruthrauff Road
Ruthrauff Road will close to all traffic at I-10 for up to 24 months.
Business access will be maintained throughout the project.
Project Status Update
Utility work near the interchange is currently underway. Intermittent lane restrictions are possible, but significant traffic disruptions are not anticipate during the work.
Demolition activities for the project are complete, and preliminary environmental clearances are nearly done.
The project is being advertised for bids, and ADOT expects it will be awarded to a contractor late this fall. Roadway construction is expected to begin after the holidays in early 2020. As always, schedules are subject to change.
Once a contractor is on board, ADOT will provide more specific information about the project schedules and expected staging phases.
Project Map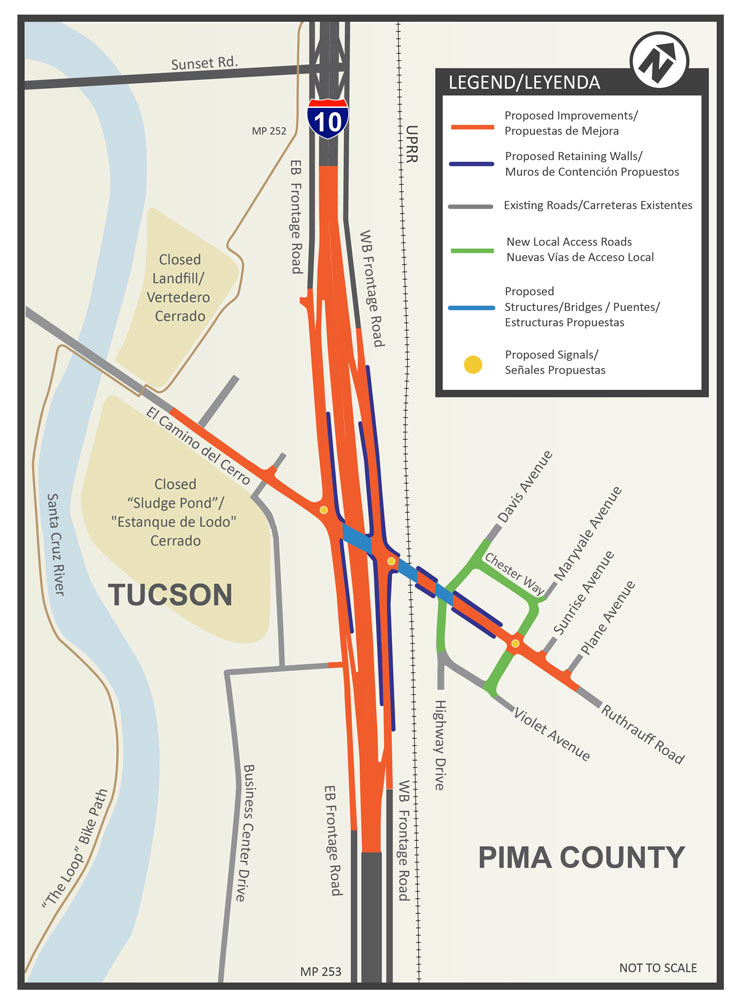 Project Purposes
The project is designed to improve safety on both Ruthrauff Road and I-10.
Currently, passing trains stop all traffic on Ruthrauff Road, which causes backups onto I-10. In the new configuration, traffic on Ruthrauff Road will pass over the railroad and I-10, eliminating the at-grade railroad crossing.
In addition, the interchange reconstruction is part of a series of projects to increase capacity on I-10 between Ruthrauff and Ina roads.
Timeline
2013 – Final design begins
2019 – Final design completed
2019 to 2021 - Construction
Stay Informed
Schedules are subject to change based on weather and other unforeseen factors. Subscribe to receive project updates and traffic alerts by email. For more information, please call the ADOT Bilingual Project Information Line at 855.712.8530 or submit a question or comment by email. For real-time highway conditions statewide, visit ADOT's Traveler Information Site at www.az511.gov, follow ADOT on Twitter (@ArizonaDOT) or call 511, except while driving.