Interstate 10: Ruthrauff Road Traffic Interchange
The Interstate 10/Ruthrauff Road traffic interchange has fully reopened to traffic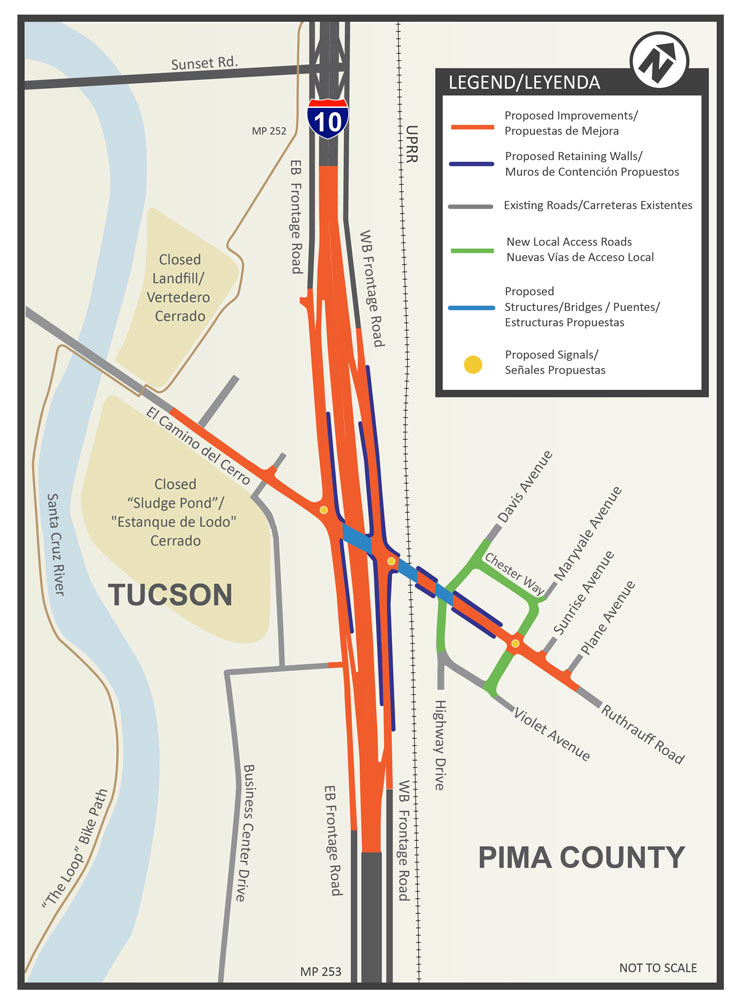 Key elements of the project included:
Lowering I-10 to go beneath Ruthrauff Road/El Camino del Cerro
Raising Ruthrauff Road/El Camino del Cerro to go over Davis Avenue/Highway Drive, the Union Pacific Railroad and I-10
Widening I-10 to four lanes in each direction
Widening Ruthrauff Road/El Camino del Cerro to two lanes in each direction
Reconstructing the I-10 frontage roads to connect to the elevated Ruthrauff Road/El Camino del Cerro
Project Purposes
The project is designed to improve safety on both Ruthrauff Road/ El Camino del Cerro and I-10.
Prior to the project, passing trains stopped all traffic on Ruthrauff Road, which caused backups onto I-10. In the new configuration, traffic on Ruthrauff Road passes over the railroad and I-10, eliminating the at-grade railroad crossing.
In addition, the interchange reconstruction is part of a series of projects to increase capacity on I-10 between Ruthrauff and Ina roads.
Stay Informed
Schedules are subject to change based on weather and other unforeseen factors. Subscribe to receive project updates and traffic alerts by email. For more information, please call the ADOT Bilingual Project Information Line at 855.712.8530 or submit a question or comment by email. For real-time highway conditions statewide, visit ADOT's Traveler Information Site at www.az511.gov, follow ADOT on Twitter (@ArizonaDOT) or call 511, except while driving.