Interstate 10: Ruthrauff Road Traffic Interchange
The Interstate 10/Ruthrauff Road traffic interchange is being reconstructed to improve traffic operations on both roadways.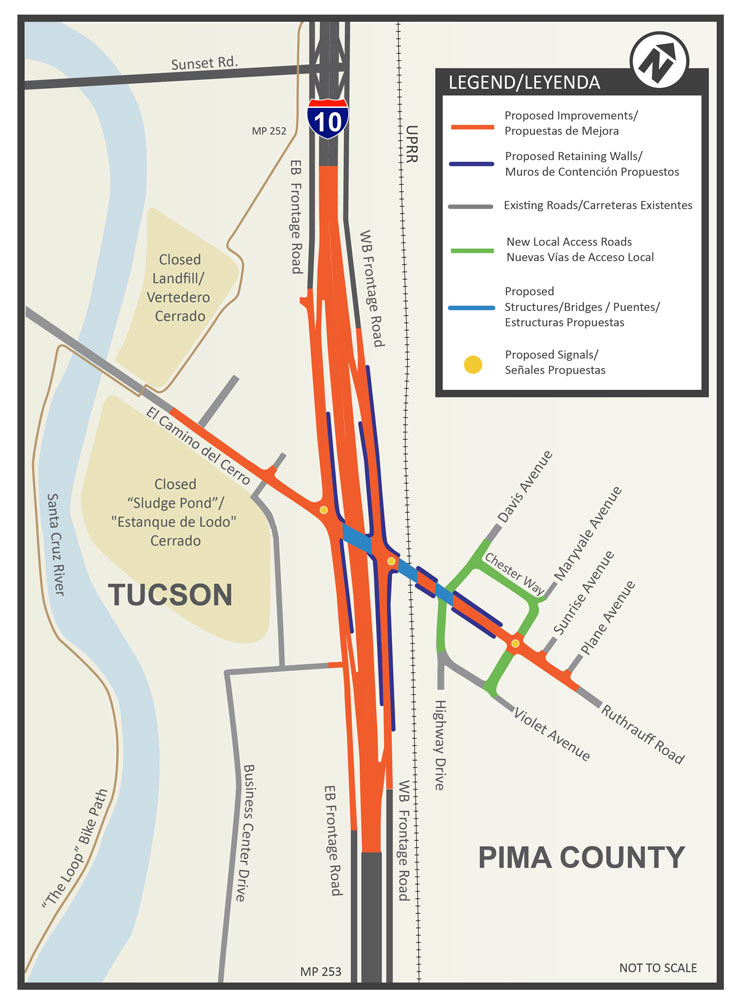 Key elements of the project:
Lower I-10 to go beneath Ruthrauff Road/El Camino del Cerro
Raise Ruthrauff Road/El Camino del Cerro to go over Davis Avenue/Highway Drive, the Union Pacific Railroad and I-10
Widen I-10 to four lanes in each direction
Widen Ruthrauff Road/El Camino del Cerro to two lanes in each direction
Reconstruct the I-10 frontage roads to connect to the elevated Ruthrauff Road/El Camino del Cerro
Ruthrauff Road/El Camino del Cerro will close to all traffic at I-10 for up to 24 months.
Business access will be maintained throughout the project.
Anticipated Project Timeline
Mid-Jan. 2020
Winter/Spring 2020
Interchange closure begins
Late Summer 2021
Ruthrauff Road/El Camino del Cerro reopens over I-10
(the interchange/ramps will not be open)
Late 2021
Interchange reopens to traffic
During the interchange closure, motorists will need to use alternate routes to access I-10.
ADOT will maintain access to businesses throughout the project. The Chuck Huckelberry Loop will remain open throughout the project.
Project Purposes
The project is designed to improve safety on both Ruthrauff Road/ El Camino del Cerro and I-10.
Currently, passing trains stop all traffic on Ruthrauff Road, which causes backups onto I-10. In the new configuration, traffic on Ruthrauff Road will pass over the railroad and I-10, eliminating the at-grade railroad crossing.
In addition, the interchange reconstruction is part of a series of projects to increase capacity on I-10 between Ruthrauff and Ina roads.
Stay Informed
Schedules are subject to change based on weather and other unforeseen factors. Subscribe to receive project updates and traffic alerts by email. For more information, please call the ADOT Bilingual Project Information Line at 855.712.8530 or submit a question or comment by email. For real-time highway conditions statewide, visit ADOT's Traveler Information Site at www.az511.gov, follow ADOT on Twitter (@ArizonaDOT) or call 511, except while driving.