Interstate 10 Safety Improvements: Sunshine Boulevard to Picacho Peak Road Dust Detection and Warning System
The Arizona Department of Transportation (ADOT) and the Federal Highway Administration (FHWA) has developed a dust-detection and warning system along Interstate 10, from Sunshine Boulevard to Picacho Peak Road. The system includes technology that will recognize an approaching dust storm, warn ADOT and drivers of that threat and slow drivers down to a safer speed. The project is funded by a federal FASTLANE grant.
Highlights include:
A system of spot and long-range sensors to measure dust and visibility along the interstate and miles beyond into the desert west of I-10
A closed-circuit camera network to enable ADOT, DPS and others to see how limited the visibility has become in the area
A series of variable speed limit signs on I-10 to gradually slow drivers from 75 mph to 25 mph
A system of loop detection sensors embedded in the roadway to provide data about drivers' speed in the affected area during a dust storm
A series of overhead electronic message boards to provide safety messages in real time to drivers in the path of the storm.
Once the array of spot and long-range sensors determines a decrease in visibility, this will trigger automatic alerts to ADOT traffic operators and the Arizona Department of Public Safety (DPS) if warranted. The sensors will activate the variable speed limit signs to reduce speeds to slower speed limits. In addition, overhead electronic message boards will provide safety messages to warn drivers in advance of reduced visibility.
The project is anticipated to be completed by late spring 2020.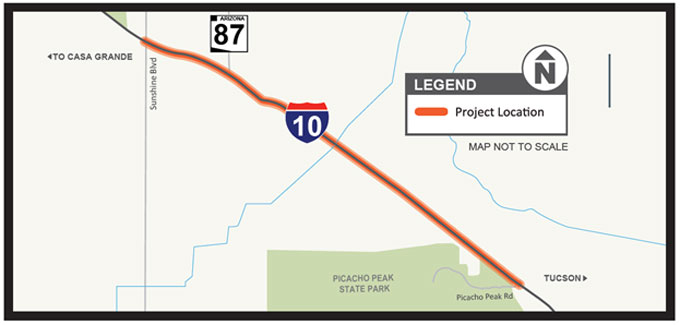 Traffic Alerts
Drivers should expect possible delays and consider alternate routes.
Schedules are subject to change based on weather and other unforeseen factors. Subscribe to receive project updates and traffic alerts by email.
Stay Informed
Schedules are subject to change based on weather and other unforeseen factors. For more information, please call the ADOT Bilingual Project Information Line at 855.712.8530 or go to azdot.gov/contact and select Projects from the drop-down menu. For real-time highway conditions statewide, visit ADOT's Traveler Information Site at www.az511.gov, follow ADOT on Twitter (@ArizonaDOT) or call 511, except when driving.