Interstate 10: West Willcox traffic interchange bridge project
Overview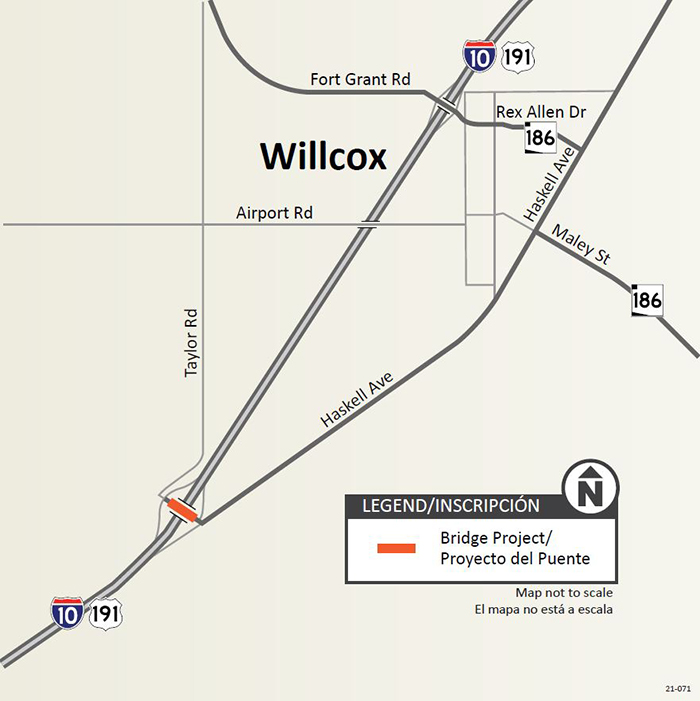 The Arizona Department of Transportation is completing a project to replace the deck on the bridge over Interstate 10 on the west end of Willcox.
Other elements of the project include:
Barrier replacement
Replacing pavement adjacent to the bridge
Guardrail upgrades
New signing and striping
Preliminary work began in late March 2021, and project completion scheduled for autumn 2021.
The project is scheduled to be completed in three phases:
Phase 1 tentatively from late March to mid-April - mobilization and construction of a temporary traffic lane to facilitate the movement of westbound I-10 traffic during scheduled I-10 closures.
Phase 2 tentatively from mid-April to late summer - removal and replacement of the bridge deck
Phase 3 tentatively from late summer to early autumn - guardrail and pavement work and cleanup
Traffic Impacts
The bridge over I-10 and the eastbound I-10 on-ramp will remain closed to all traffic for the duration of the project. Other exit and entrance ramps will remain open. However, vehicles will not be able to cross I-10.
Some work in phase 2 will require weekend closures of I-10 from 6 p.m. Fridays to 6 a.m. Mondays. At that time, I-10 traffic will be diverted onto the exit ramps and back to I-10 using the entrance ramps.
Stay Informed
Schedules are subject to change based on weather and other unforeseen factors. Subscribe to receive project updates and traffic alerts by email. For more information, please call the ADOT Bilingual Project Information Line at 855.712.8530 or submit a question or comment by email. For real-time highway conditions statewide, visit ADOT's Traveler Information Site at az511.gov, follow ADOT on Twitter (@ArizonaDOT) or call 511, except while driving.