State Route 77: Gila River Bridge Replacement Project
The Arizona Department of Transportation is replacing the Gila River bridge on State Route 77 in Winkelman on the Gila/Pinal county line.
Work began in September 2019 and is scheduled to extend to the summer of 2021.
Traffic is restricted to a single lane in alternating directions using a temporary traffic signal, and a 15-foot vehicle-width limit is in place. Drivers should expect delays.
In addition to a new concrete bridge, the project also includes guardrail and pavement markings.
Vehicles should proceed through the work zone with caution, slow down and watch for construction personnel and equipment.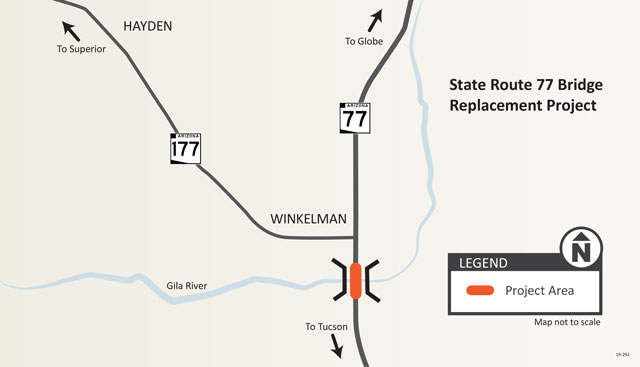 Printable version
Stay Informed
Schedules are subject to change based on weather and other unforeseen factors. Subscribe to receive project updates and traffic alerts by email. For more information, please call the ADOT Bilingual Project Information Line at 855.712.8530 or submit a question or comment by email. For real-time highway conditions statewide, visit ADOT's Traveler Information Site at www.az511.gov, follow ADOT on Twitter (@ArizonaDOT) or call 511, except while driving.
Globe Area Construction
Traffic Restrictions
Current Restrictions
Occasional lane restrictions with flaggers are possible weekdays to move equipment or haul material (no long-term restrictions planned)
No full closures currently planned
Current Restrictions
Intermittent lane restrictions and delays (up to 15 minutes) weekdays
Upcoming Restrictions
Intermittent 15 minute closures weekdays from Nov. 30 to Dec. 11. Expect delays.
Current Restrictions
Bridge restricted to a single lane with traffic controlled by a signal