US 60: Pinto Creek Bridge Replacement Project
The Arizona Department of Transportation (ADOT) and the Federal Highway Administration (FHWA) are replacing the Pinto Creek Bridge, located on US 60 about 6 miles west of Miami, Arizona.
Work started in October 2019, and the project is expected to take about two years.
The project involves constructing a new bridge adjacent to the existing bridge, and then removing the existing bridge.
Traffic Impacts
The existing bridge will remain in service until the new bridge is completed.
Motorists should expect possible delays and intermittent lane closures with flaggers and pilot cars throughout the project.
In addition to lane restrictions, pre-scheduled closures of US 60 will be required at the following times:
Tuesdays and Thursdays from 9 a.m. to 1 p.m. early in the project to allow for rock blasting
Overnight closures later in the project schedule to set steel girders and place bridge-deck concrete
A five-day closure of US 60 will be scheduled when the bridge is nearing completion (tentatively late 2020)
During scheduled closures of US 60, motorists will be detoured to State Route 77 and State Route 177. Please Note: This detour will likely add at least 45 minutes to a trip.
ADOT will provide advance notice of restrictions and closures through message boards, news releases and email alerts. Sign up for email alerts.
Globe Area Construction
Traffic Restrictions
Current Restrictions
Upcoming Restrictions
Starting Oct. 31 - Daily lane restrictions (6 a.m. - 4 p.m. Mondays through Thursdays; 6 a.m. - Noon Fridays) with flaggers
Full closures (Tuesdays/Thursdays from 9 a.m. to 1 p.m.) tentatively set to begin Nov. 7
Current Restrictions
Bridge restricted to a single lane with traffic controlled by a signal
Project Purpose
The Pinto Creek Bridge was built to standards in 1949; however, those standards no longer meet the current minimum FHWA, American Association of State Highway Transportation Officials (AASHTO) and ADOT Bridge Design Guidelines. The purpose of this project is to address a structurally deficient and functionally obsolete bridge structure while ensuring that the travelling public is provided a reliable bridge crossing over Pinto Creek preserving the continuity of US 60 and its function as a major transportation link.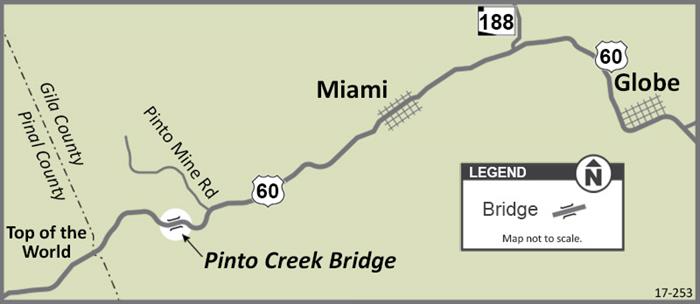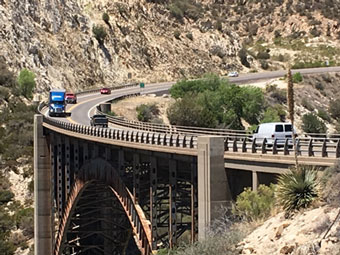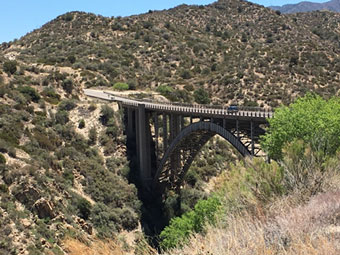 Stay Informed
Schedules are subject to change based on weather and other unforeseen factors. Subscribe to receive project updates and traffic alerts by email. For more information, please call the ADOT Bilingual Project Information Line at 855.712.8530 or submit a question or comment by email. For real-time highway conditions statewide, visit ADOT's Traveler Information Site at www.az511.gov, follow ADOT on Twitter (@ArizonaDOT) or call 511, except while driving.