Dome Valley Road Intersection Improvement
The Arizona Department of Transportation and the Federal Highway Administration are working to improve safety and traffic flow at the intersection on US 95 and Dome Valley Road in Yuma County. The project is located east of the city of Yuma between mileposts 40.17 and 40.60.
The work consists of widening US 95 and adding two turn lanes to separate through traffic from turning movements. The work also includes overlay of existing pavement, pipe liner, signage, replacement of pavement markings and other related work.
The project is scheduled to begin in July 2021.
Project Area
The project area is on US 95 and Dome Valley Road Intersection in Yuma County.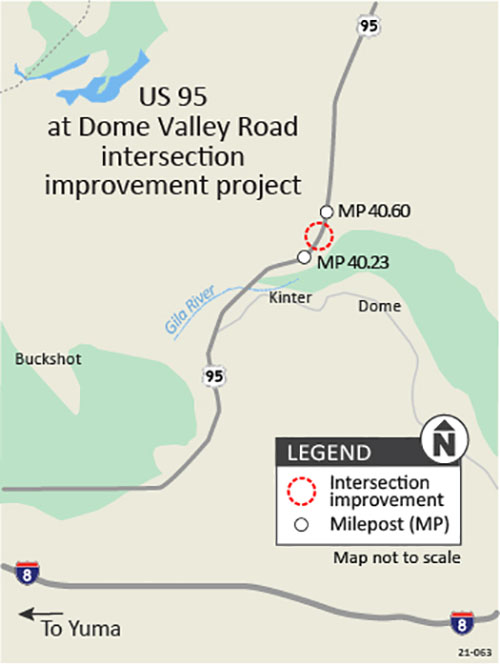 What to expect:
Expect delays as lane restrictions will be necessary.
Drivers are asked to use caution, obey posted speed limits and traffic control devices and use caution around construction personnel and equipment.
Stay Informed
Schedules are subject to change based on weather and other unforeseen factors. Subscribe to receive project updates and traffic alerts by email. For more information, please call the ADOT Bilingual Project Information Line at 855.712.8530 or submit a question or comment by email. For real-time highway conditions statewide, visit ADOT's Traveler Information Site at www.az511.gov,