I-10, I-40 and SR 95 POE Truck Screening Improvement Project | Ehrenberg, San Simon, Topock, Sanders and Parker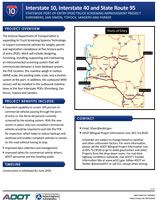 Project Area
The Arizona Department of Transportation is expanding its Truck Screening Systems Technology to check commercial vehicles for weight, permit and registration compliance at five Arizona Ports of Entry. New camera-based vehicle screening and sorting system will integrate with the existing PrePass and Drivewyze preclearance systems.
In addition, weigh in motion (WIM) sensors will be installed in the outbound mainline lanes at the four interstate POES: Ehrenberg, San Simon, Topock and Sanders.
Project Map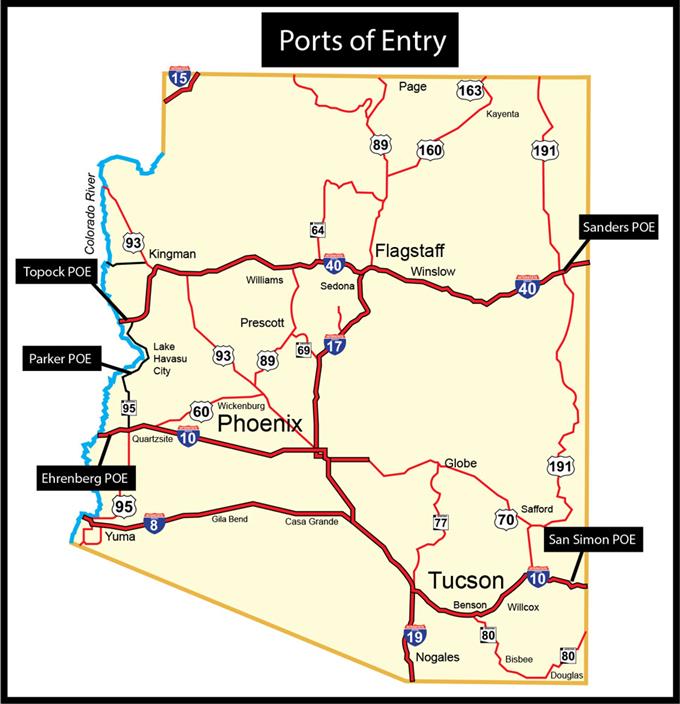 As commercial vehicles approach the ports, cameras capture the vehicle's image, license plate and US Department of Transportation numbers, and the WIM captures the vehicle's weight in the right lane at highway speed.
The plate number and USDOT number are used to search credential and safety databases and the results, including the weight information, are sent to the sorting system.
Pre-established sorting criteria are used to determine messages to display on the variable message signs approaching the port.
As the vehicles approach the variable message signs, the signs instruct drivers to report or bypass the port.
Images and all relevant compliance data are viewable by ADOT Enforcement and Compliance officers as the vehicles approach.
Alerts and vehicle images are provided for vehicles that do not comply with the variable message sign instructions or attempt to bypass the port in the left lane.

Project benefits include:
Expanded capability to screen 100 percent of commercial vehicles passing through the Ports of Entry vs. the 40-to-60 percent currently screened by the existing system.
With the new system in place, only non-compliant commercial vehicles would be required to pull into the POE for inspection, which helps to reduce backups and workload and enables compliant vehicles to remain on the road without having to stop.
Improved data collection and management.
Improved safety for commercial vehicle drivers, ADOT personnel and the traveling public.
What to expect
The project is scheduled to begin in summer 2019.
Please subscribe to receive project updates and traffic alerts by email for the highway in which you are interested.
Stay Informed
Schedules are subject to change based on weather and other unforeseen factors. For more information, please call the ADOT Bilingual Project Information Line at 855.712.8530 or submit a question or comment by email. For real-time highway conditions statewide, visit ADOT's Traveler Information Site at www.az511.gov, follow ADOT on Twitter (@ArizonaDOT) or call 511, except while driving.