Interstate 8 Pavement Preservation Project between milepost 46 and Dateland
The Arizona Department of Transportation, in coordination with the Federal Highway Administration, is repairing the pavement on Interstate 8 near the community of Dateland.
The purpose of the project is to extend the life of the pavement and to improve ride and safety on the existing roadway.
The work consists of pavement and bridge rehabilitation. The work also includes milling and repaving of the mainline, shoulders, cross road, gore areas, ramps, bridge decks and slabs; removing and replacing cattle guards, guard rails and spillways; installing pavement marking and rumble strips; installing and replacing signs; and other related work.
Project Area
The project is located on I-8 in Yuma County near Dateland from milepost 46 to the Dateland traffic interchange overpass (milepost 68).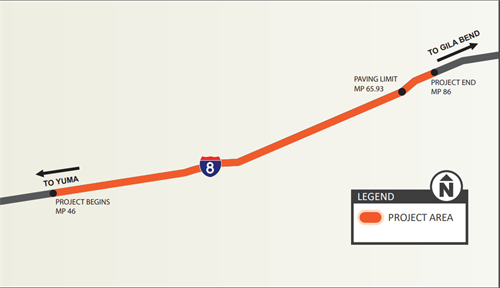 What to expect:
The project is scheduled to begin in summer 2019 with completion anticipated in winter 2020.
Lane restrictions and closures will be necessary. Drivers should plan for possible delays.
Work is scheduled to occur between 6 a.m. and 6 p.m. Monday through Friday.