US 95 and Avenue 8E Intersection Improvement Project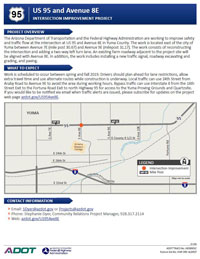 The Arizona Department of Transportation and the Federal Highway Administration are working to improve safety and traffic flow at the intersection on US 95 and Avenue 8E in Yuma County. The project is located east of the city of Yuma between Avenue 7E (mile post 30.67) and Avenue 8E (milepost 31.17).
The $1.8 million project consists of reconstructing the intersection and adding a two-way left turn lane. An existing farm roadway adjacent to the project site will be aligned with Avenue 8E. In addition, the work includes installing a new traffic signal, roadway excavation and grading, constructing retention basins and paving.
The project is scheduled to begin in spring 2019 with completion anticipated in fall 2019.
Project Area
The project area is on US 95 and Avenue 8E Intersection in Yuma County.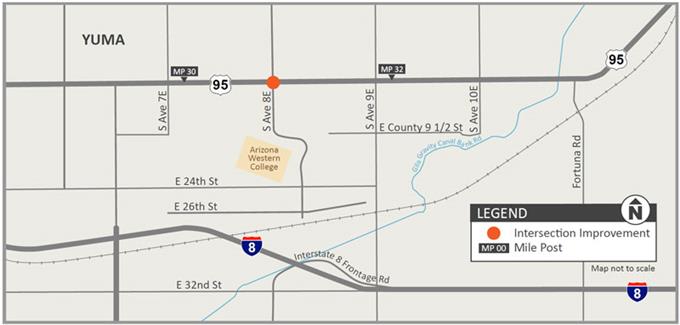 What to expect:
Expect delays and temporary detours as lane restrictions on US 95 and Avenue 8E will be necessary.
Stay Informed
Schedules are subject to change based on weather and other unforeseen factors. Subscribe to receive project updates and traffic alerts by email. For more information, please call the ADOT Bilingual Project Information Line at 855.712.8530 or submit a question or comment by email. For real-time highway conditions statewide, visit ADOT's Traveler Information Site at www.az511.gov, follow ADOT on Twitter (@ArizonaDOT) or call 511, except while driving.