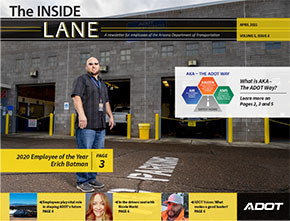 The Inside Lane April 2021
The Inside Lane April 2021
Check out the latest issue of The Inside Lane:
Try to win a prize with our scavenger hunt.
Meet Employee of the Year Erich Batman.
Discover what AKA —  The ADOT Way means.
Read how Nicole Merkl manages specialty license plates.
Appraisal Agreement
I hereby agree that I am accessing the ADOT appraisal for this excess land parcel for informational purposes only and agree that I will not reproduce or otherwise utilize the information in the appraisal with the intent to sell the information or for any other unauthorized or illegal purpose.