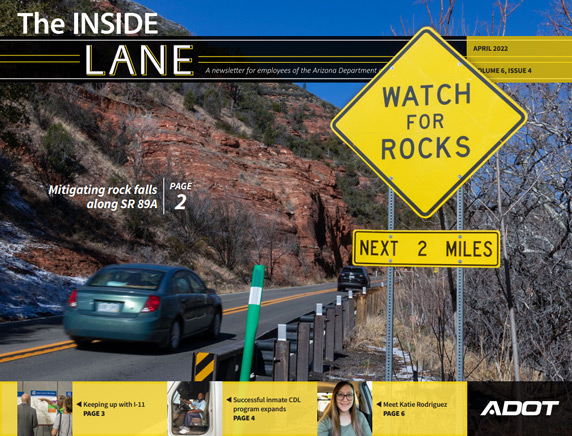 The Inside Lane April 2022
The Inside Lane April 2022
Check out the latest issue of The Inside Lane:
Meet Katie Rodriguez of the Environmental Planning Group.
Discover why ADOT received a prestigious award for I-11 public involvement. 
Read how ADOT employees help inmates obtain commercial driver licenses. 
Try the crossword puzzle for a chance to win a prize.
See how teamwork protects bridge decks from getting hit.
Learn why crowdsourcing improves traffic flow.
Read Director John Halikowski's column about The ADOT Way.
Appraisal Agreement
I hereby agree that I am accessing the ADOT appraisal for this excess land parcel for informational purposes only and agree that I will not reproduce or otherwise utilize the information in the appraisal with the intent to sell the information or for any other unauthorized or illegal purpose.