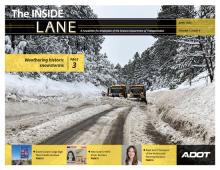 The Inside Lane April 2023
The Inside Lane April 2023
Check out the latest issue of The Inside Lane:
Discover the collaboration across ADOT to keep the public safe during historic winter storms.
Learn how the Grand Canyon Logo Sign Team boosts revenue.
See the Motor Vehicle Division's new look for driver licenses and IDs.
Meet Sara Thompson of the Multimodal Planning Division.
Appraisal Agreement
I hereby agree that I am accessing the ADOT appraisal for this excess land parcel for informational purposes only and agree that I will not reproduce or otherwise utilize the information in the appraisal with the intent to sell the information or for any other unauthorized or illegal purpose.