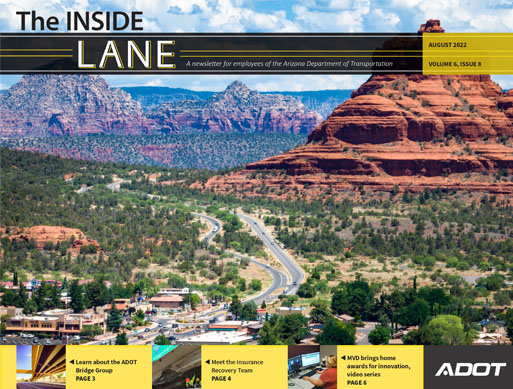 The Inside Lane August 2022
The Inside Lane August 2022
Check out the latest issue of The Inside Lane:
Meet ASD's Insurance Recovery Team!
Read about IDO's Bridge Group to learn why bridge conditions in Arizona are improving.
Find out which awards were won recently by MVD.
See what was happening at ADOT back in 1977.
Try out our latest puzzle — and maybe win a prize!
Appraisal Agreement
I hereby agree that I am accessing the ADOT appraisal for this excess land parcel for informational purposes only and agree that I will not reproduce or otherwise utilize the information in the appraisal with the intent to sell the information or for any other unauthorized or illegal purpose.