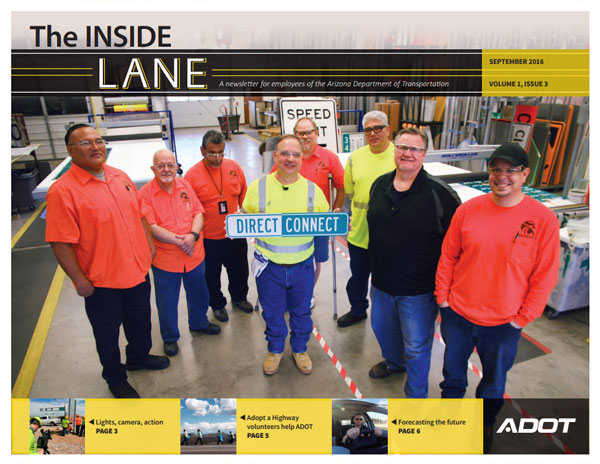 The Inside Lane - September 2016
The Inside Lane - September 2016
Check out the latest issue
What's new at ADOT? Read The Inside Lane to find out!

In this issue:
Read a message from ADOT Deputy Director for Operations Scott Omer.
Get the lowdown on ADOT's newest video series and a link to watch the first episode that puts Director Halikowski on the job with ADOT sign crews.
Learn how the Adopt a Highway volunteer program keeps our roads clean and saves the agency money.
Travel back to the 1970s and take a look at a few photos from ADOT's past.
Appraisal Agreement
I hereby agree that I am accessing the ADOT appraisal for this excess land parcel for informational purposes only and agree that I will not reproduce or otherwise utilize the information in the appraisal with the intent to sell the information or for any other unauthorized or illegal purpose.