For these trainees, the road to engineering starts with ADOT
For these trainees, the road to engineering starts with ADOT
By Laurie Merrill / ADOT Communications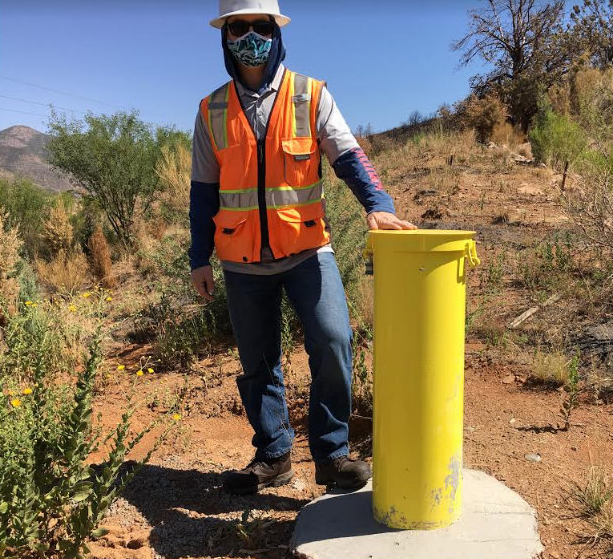 When it comes to hiring promising young engineers for the Arizona Department of Transportation, there's probably no bigger cheerleader than Candee Samora.
After all, Samora, ADOT's Engineer-in-Training and Intern Program manager, has landed her dream job and brings her considerable enthusiasm to work every day.
"I've wanted to work for state government since I was 12 years old," she said. "And I wouldn't want to be anywhere else but ADOT."
She gets to work with young engineers in training, who also bring considerable enthusiasm to their roles.
"They bring excitement, new blood, new ideas," Samora said. "They are fabulous."
In interviews, engineers-in-training (EIT) extolled the virtues of a program that provides so much education and training in so many areas and allows them to see the role of engineering in major projects from start to finish.
"Working with projects so large-scale and critical for the traveling public has been very interesting to see and be a part of every step of the way," said Brandy Wagoner, recently assigned to Deer Valley Construction.
In the video above, we interviewed Jimmy Naujokaitis, an ADOT resident engineer in Phoenix, who is an enthusiastic graduate of the EIT program. 
"Being in the EIT program allows you to get integrated into ADOT culture and see how things are run," he said. 
Like a lot of future engineers, when he was a kid he excelled in math, science and Legos! 
ADOT can choose from a wide pool of applicants since the agency no longer requires a Fundamentals of Engineering certificate for eligibility.
Recently, the criterion shifted and trainees are required to pass the exam during the 2-year-program, Samora said.
ADOT also sets the trainees on the path for passing their Professional Engineer license, which is considered the highest standard of competence. 
They receive an apprentice-style education that provides hands-on experience and side-by-side mentoring in such disciplines as roadway design, environmental planning, multimodal planning and materials lab. Every few months, they rotate between Roadway Design, Project Management and outlying rural construction projects.
We recently asked a few engineers in training about what they like best about ADOT's EIT program. Here are some of the highlights:
Wagoner, also quoted above, added that she likes seeing "first-hand how massive transportation projects travel from a vision, to a project, to each design team and how they work together to complete the design, to bid, and finally to construction."
And the work environment is excellent.
"The atmosphere of being an ADOT EIT is so welcoming, encouraging and creates an environment that I have always felt comfortable and supported in," Wagoner said.
Diana Palma, recently assigned to the Transportation Systems Management and Operations (TSMO) Division, enjoys learning first-hand about each unit's responsibilities and the potential for career progression within the state. 
She also listed "the opportunity to apply principles of the Arizona Management System to everyday activities and to see the positive impact on practices."
Babak Dehghani called the program "an amazing introduction into the professional world."
He enjoys seeing how ADOT brings construction projects from beginning to finish and how, by working under registered professionals, he has gained the training and experience to become registered as a professional engineer.
Steven Neher, recently assigned to the Multimodal Planning Division, listed the opportunity to work with many different groups, field visits, chances to grow and career development.
"All of these reasons culminate in this grand chance to better myself as a person, an engineer, and a professional, laying the foundation for techniques and habits that can help serve me to my benefit for years to come," Neher said. "Every road starts somewhere and I'm glad mine began with ADOT."