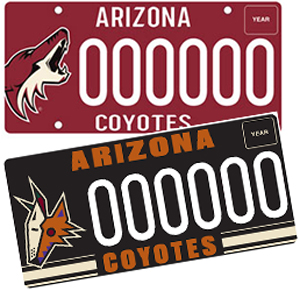 1 Plate Issued 
There is a new black design for the Arizona Coyotes license plate. The old plate design will remain valid for use. Anyone requesting a replacement for the old plate will receive the new design for a $5.00 replacement fee, plus postage/handling.
$25 initial application fee/ $25 annual renewal. No special requirements. Available to everyone. May be ordered online. The standard size plate may be personalized with a maximum of 6 characters.
Also available in a small size plate for motorcycles and golf carts. May be personalized with a maximum of 4 characters.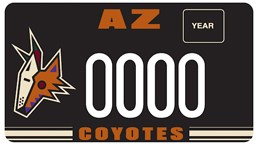 Also available with a disability symbol.

$17 goes to the Arizona Coyotes Foundation. The Arizona Coyotes Foundation strives to enhance the quality of life throughout Arizona by supporting organizations and programs that promote access to education, health and wellness and economic advancement for underserved and diverse communities.
Recipient
Arizona Coyotes Foundation