Art of Transportation: Rainbow arch
Art of Transportation: Rainbow arch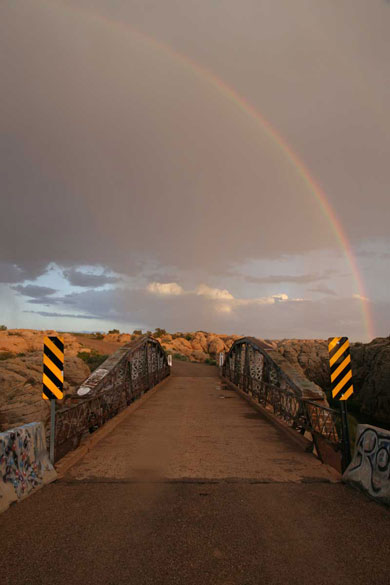 By John Dougherty
ADOT Communications
This week we're taking you back a few years to 2013, just before the Chevelon Creek Bridge underwent a significant restoration.
While the bridge, along what once was the route between Winslow and Holbrook, was restored in late 2013, we think the old version doesn't look too shabby in this light with a rainbow arching across it.
The restoration process included wrapping the entire bridge in plastic to remove lead paint and prevent the paint from entering the water below. Other work included replacing the bridge deck, completing steel repairs and making modifications to the abutments.
The Chevelon Creek Bridge was built more than 100 years ago for a cost of less than $5,000! It was one of the first highway structures to be undertaken by the newly formed State of Arizona. The bridge is still an important travel route for Navajo County drivers.
---
Art of Transportation
We think there is beauty in transportation. It's not all hard hats and pavement. Art of Transportation is a blog series featuring unique photos our team has taken while on the road or on a construction project.