Plows are primed, drivers are trained and ADOT is ready for snow
Plows are primed, drivers are trained and ADOT is ready for snow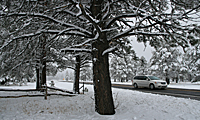 By Ryan Harding / ADOT Communications
Another winter season is upon us, and that means snow in the high country.
With 197 snowplows ready to go and stationed around the state, ADOT's 400 snowplow operators are prepared to respond when snow falls.
Our snowplow operators are commercially licensed and trained with a combination of classroom time, simulators and on-the-job training.
We want you to know about our snowplows because it's important to know how to drive near them, starting with staying back at least four car lengths and not passing until the driver pulls over. Remember: The safest place to be is behind a plow when snow and ice are present.
Get more tips on winter travel from ADOT's Know Snow webpage.
Overhead message boards around the state advise motorists of road conditions – especially when there's snow and ice on the roads.
ADOT typically spends between $5 million and $8 million a year on winter operations. Last year was a particularly heavy year, with $7.9 million spent. Our plows were out on roads a lot keeping the highways clear – so much that they consumed more than 231,000 gallons of fuel!
It's difficult to predict how severe a winter will be, and where problem areas will crop up; however, ADOT has the resources needed to respond.