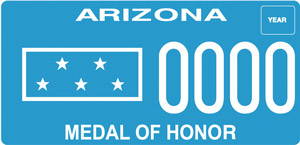 1 Plate Issued
No fee required. Must be recipient of Congressional Medal of Honor and provide an original letter from the Arizona Department of Veterans' Services (ADVS) verifying eligibility.
Available by special order only. Special Plate Application (form #96-043) is required. Not available to be personalized.
Also available with a disability symbol.