Arizona Agriculture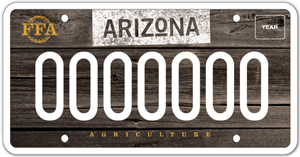 1 Plate Issued
$25 initial application fee/ $25 annual renewal. No special requirements. Available to everyone.
$17 goes to the Arizona FFA which provides premier leadership, personal growth and career success opportunities for students enrolled in Agricultural Education programs in Arizona. May be ordered online. May be personalized with maximum of 7 characters.
Also available with a disability symbol.
Recipient:
AZ Department of Education