Arizona Coyotes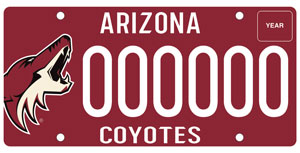 1 Plate Issued
$25 initial application fee/ $25 annual renewal. No special requirements. Available to everyone.
$17 goes to the Arizona Coyotes Foundation, which supports non-profit organizations that serve children and service men and women with healthcare, education, cultural arts and youth sports in the State of Arizona. May be ordered online. May be personalized with maximum of 6 characters.
Also available with a disability symbol.
Recipient:
Arizona Coyotes Foundation