Barrett-Jackson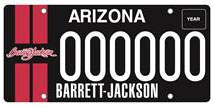 1 Plate Issued
$25 initial application fee/ $25 annual renewal. No special requirements. Available to everyone.
$17 of the fee goes Barrett-Jackson Charities, to benefit the 2018 "Driven Hearts" initiative for the American Heart Association. Special Plate Application (form #96-0143) is required. May be ordered online. May be personalized with maximum of 6 characters.
Also available with a disability symbol.
Recipient:
Barrett-Jackson Charities