Families of Fallen Police Officers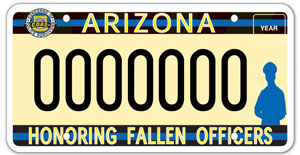 1 Plate Issued
$25 initial application fee/ $25 annual renewal. No special requirements. Available to everyone. $17 goes to a special fund for helping in the healing of family survivors of police officers who died in the line of duty in Arizona.
May be ordered online.
May be personalized with maximum of 7 characters.
Also available with a disability symbol.
Recipient:
AZ Department of Public Safety