Hunger Relief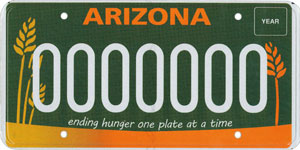 1 Plate Issued
$25 initial application fee/ $25 annual renewal. No special requirements. Available to everyone.
$17 goes to Hunger Relief Special Plate Fund, which will be used to fund organizations that provide food distribution to hungry people in Arizona. May be ordered online. May be personalized with maximum of 7 characters.
Also available with a disability symbol.
Recipient:
Association of Arizona Food Banks