Northern Arizona University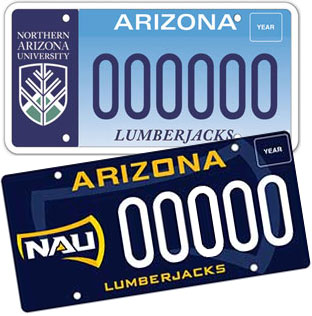 1 Plate Issued
There is a new (dark) design for the Northern Arizona University license plate. The old plate design will remain valid. Anyone requesting a replacement for the old plate will receive the new design for a $5.00 replacement fee, plus postage/handling. *New application fees will apply if your current personalization is greater than five characters.
$25 initial application fee/ $25 annual renewal. No special requirements. Available to everyone.
$17 dollars of the initial and annual renewal fee goes to the university for academic scholarships. May be ordered online. May be personalized with maximum of 5 characters.
Also available with a disability symbol.
Recipient:
Northern Arizona University