Street Rod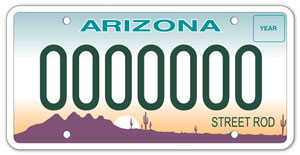 1 Plate Issued
$25 initial application fee/ $25 annual renewal, in addition to regular registration fees. Vehicle must have a body design which retains at least the basic original style as manufactured in 1948 or earlier and which has been modified for safe road use. May require a vehicle inspection.
Only available as a personalized plate (maximum 7 characters).
Also available with a disability symbol.